Zain in a Tuxedo
Zain in a Tuxedo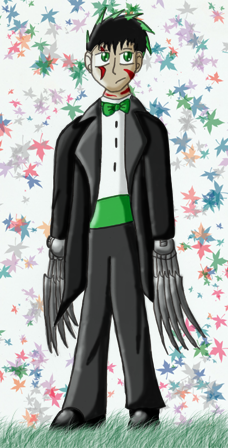 Description
Randomness is what made this picture possible! I was drawing and this is what popped onto my paper. Well I guess it's good it wasn't Jex o.O' lol. Hmm, I'm not sure why Zain is wearing a Tux, and I'm not sure why he doesn't have his face bandages, and I'm not sure why the heck the leaves in the background are muli-colored -.- *sigh* eh I guess it looks good. I messed up a bit on his right set of claws, his face and his hair, but other than that it looks good. Please Comment!

Oh yeah, erm..in your comments post why you think Zain's in a tuxedo! XD It would be cool to know what other people think.

Note: Zain is c/o to me.