A Soothing Kiss
A Soothing Kiss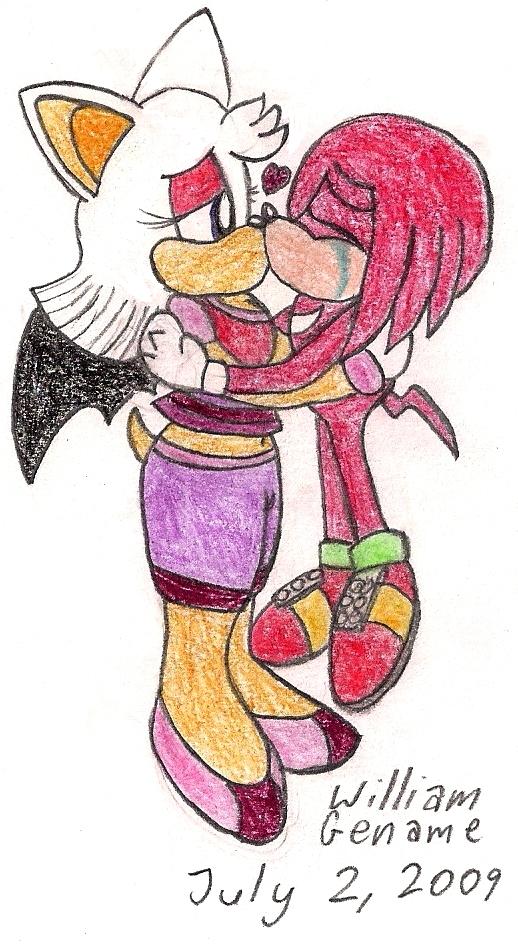 Description
Here's the story behind this one.

While Knuckles was sitting with the Master Emerald, Rouge came from seemingly no where and attacked him. Knuckles fought back, but Rouge eventually knocked him out. She then grabbed the Emerald from it's foundation and flew off, but decided to watch Angel Island fall. As she was happily watching the island fall into the ocean, she suddenly felt the Emerald slide out of her hands.

It was a giant Russet, who was lucky to see the fight. Russet raced to get the Emerald back into its foundation, and she managed to put the Emerald back in its position just in the nick of time. Just before shrinking back down to normal size, she glared at Rouge, who decided to fly away empty handed.

Knuckles, who saw Russet put the Emerald back, was very shaken up from the ordeal yet thankful for Russet's actions. Full of emotions, he started to cry, something he very rarely does. Russet hugged Knuckles saying everything was all right. "It's okay to cry, Knuckles," she told him. "It shows you have feelings."
General Info
Comments
2
Media
Colored Pencil / Crayon
Time Taken
Reference