Knuckles' Christmas Gift
Knuckles' Christmas Gift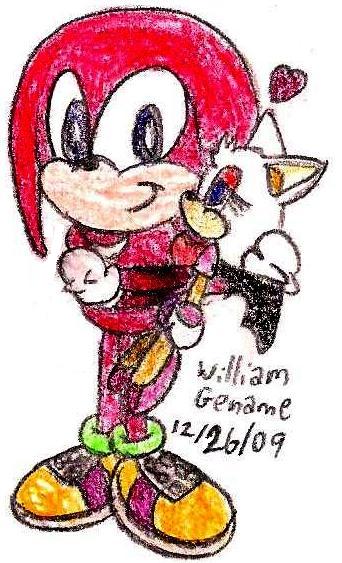 Description
At present time on Christmas Day, Russie gave Knux a very special gift: a plush doll of herself. It's special in a number of ways. One, like some plush dolls, her gloves and shoes are removable. Two, the more important reason of why it's so special, it came with a remote to change the size of "her." The shoe and glove size are unaffected unless they're on the doll "herself."

The whole reason why Russie thought it'd be a great gift for Knuckles is that Knux didn't mind being alone before knowing Russie. Since she came into Knuckles' life, Knuckles never felt so desiring to have someone with him. Since Russie can't be with Knuckles all the time, she felt a doll of herself would help give Knuckles some company. Russie also included a bed and gold cover in case Knux needed to put the doll away under his altar to go out so no one would take "her" and so that "she" wouldn't get dirty.

How was the doll made anyway? Well, that's another story you have to wait for sometime.

Here's a scene of a chibi Knuckles hugging his wonderful gift. Yeah, I did bad on the arms. Also, I intended to color his shoes in this way. Any guesses where they're from?
General Info
Comments
0
Media
Colored Pencil / Crayon
Time Taken
Reference