Valerie
Valerie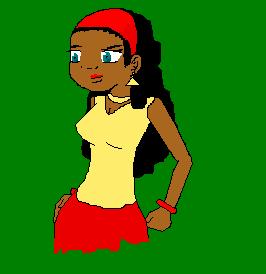 Description
Okay! I'm still shocked at the fact that fewer people draw Val! I know shes a bit controlive and junk and wants to "waist Danny Phantom" but thats because of the take charge atitude, he "ruind my life", dosent know, thing... <br />
Did any one get that? <br />
Okay! Storry on this! Took maybe 15 mintost to get the basics down... I still don't time my self, and then I took the picter (scaner still dead) and traced it on paint! That only took about an hour and ahalf at least! <br />
Well injoy and yes I do like Val! I think some people are just to mean about her, though the path shes taking may chainge her and that may chainge my opinion, but only time will tell... right?<br />
Oh and again, sorry about spelling!