Paopu Party
Paopu Party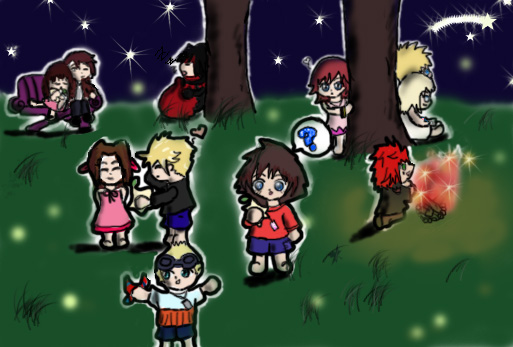 Description
This is a really old pisture. I recently found it in my sketchbook. Then I scanned it and started to color it on Photoshop Elements 3.0 a few days ago. I only finished a few minutes ago.
Characters in chibi:
-Leon (Squall Leonhart) and Rinoa Heartilly are sitting on the couch thing. She is holding a paopu fruit that Leon just gave her while fast asleep. Squall was asleep and realized she fell asleeep on him. [ Final Fantasy 8 ]
-Vincent Valentine is just asleep with his cape acting as a blanket. [ Final Fantasy 7 ]
-Namine is drawing with Roxas behind her. [Kingdom Hearts 2 ]
-Sora found a paopu fruit with his name on it, and is confuzzled. Kairi is standing next to the tree, watching Sora. I wonder who sent the paopu fruit? ~coughkairicough~
[ Kingdom Hearts ]
-Cid Highwind is playing with a toy airplane. [ Final Fantasy ]
-Axel is playing with fire**.

These are the characters as little chibi kids. They are all just hangong out at night with friends. I guess this is a holiday that has to do with giving the one you love a paopu fruit. I'm sorry those of you in this picture that don't have anyone, but I just needed more people in this picture.
Now, I do realize that Rinoa isn't in KH, but I needed to put her in for Squall. I also realize that they all didn't knoe each other when they were small. Axel, he's a Nobody, so that's probably not what his other self looked like when he was small, but OH WELL! No flames on the couples** or characters in this pic, please. Oh, and I LOVE comments.
~katara
*Kids, don't try this at home.
**I only draw the couples as I see them in the series.
General Info
| | | | |
| --- | --- | --- | --- |
| Ratings | | Comments | 7 |
| Category | Games » - by Publisher » Square-Enix » Kingdom Hearts series » Chibis | Media | MS Paint |
| Date Submitted | | Time Taken | long time |
| Views | 1276 | Reference | none 'cept 4 sora, so the picture may be off |
| Favorites... | 6 | Keywords | paopu, sora, kairi, squall, cloud, aerith, rinoa, final, fantasy, kingdom, hearts, kh |
| Vote Score | 5 | License | Berne Convention |