Cat Fight
Cat Fight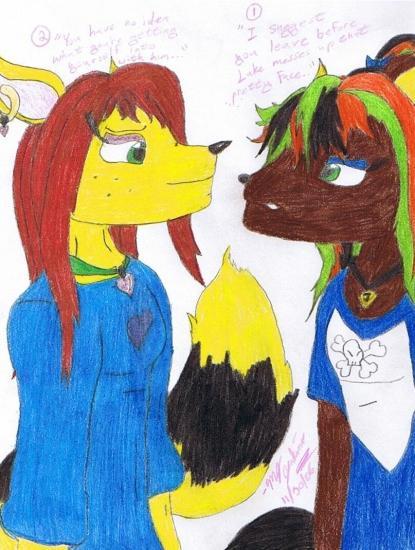 Description
I actually like how this one came out.I'd have to say it was my best one with colored pencils ( I'm trying to make it where there are no white streaks in the pic ). Anyway,Marylynn 'Coon (on the left) came across Jesse Flion (on the right) and the two always seem to fight.
Jesse:I suggest you leave before Luke messes up that pretty face.
Marylynn: You have no idea what you're getting yourself into with him...
This takes place later on in my story,Anger,too.You can find my story 'Anger' on Sheezy art in my gallery at
http://krypto.sheezyart.com/
Anyway enjoy!
Marylynn (given to me by MC)!
Jesse Flion (C) to me!