Airies shoes!!! xD
Airies shoes!!! xD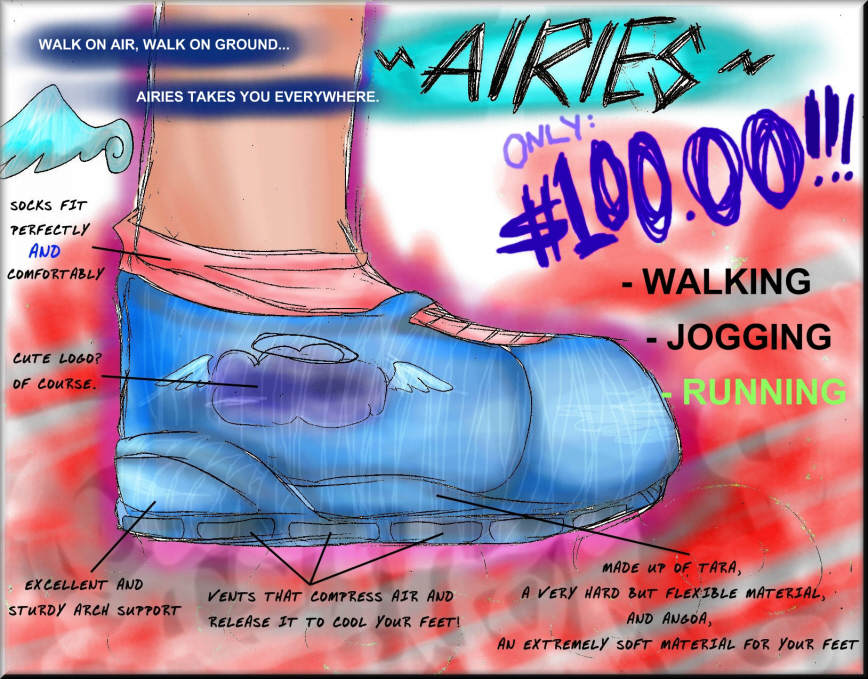 Description
xD OH MY GOD!!!!!!!!! WTF!!!!1 HAHAHAHAHHAHAHAH!!!!! Why would I upload a picture I did for SCHOOL????!!!!!! In one of my classes, my partners and I had to create our own shoe and our shoes are AIRIRES! Only $100! xDXDXD A large by worthy cost for such a comfortable shoe! Plus...there is extra soft material lining the inners of this shoe to control all gripping feet problems and aches!

REMEMBER!!! ONLY 100 MEASLY DOLLARS! BUY TODAY!!!!

WALK ON AIR, WALK ON GROUND, AIRIES TAKES YOU EVERYWHERE!!!!!

Partner#1: So..let's make our shoe interesting. The teacher said we could right? So then...lets make these shoes fly!

Me: OH!!!!!! I see! So there's....*starts swinging her fingers and hands* ...there's a vent in the shoe! That's it!!! -That sucks in the air and compresses it through a tiny device built into the arch support and then it releases the air out from the bottom of the shoe and causes lift for your body!

Partners: -__-;

Me: D: But if the compressed air comes out so strongly that it cause lift someone.....wouldn't we kill someone if we pointed the heel of the shoe at the person?

Partners: -__-; Sure....

Me: xD SWEEEEeeeeeeEEEettttttt!!!!!!!
General Info
Comments
62
Media
Digital drawing or painting
Time Taken
2 hours :3
Reference
none