Like father, like son!
Like father, like son!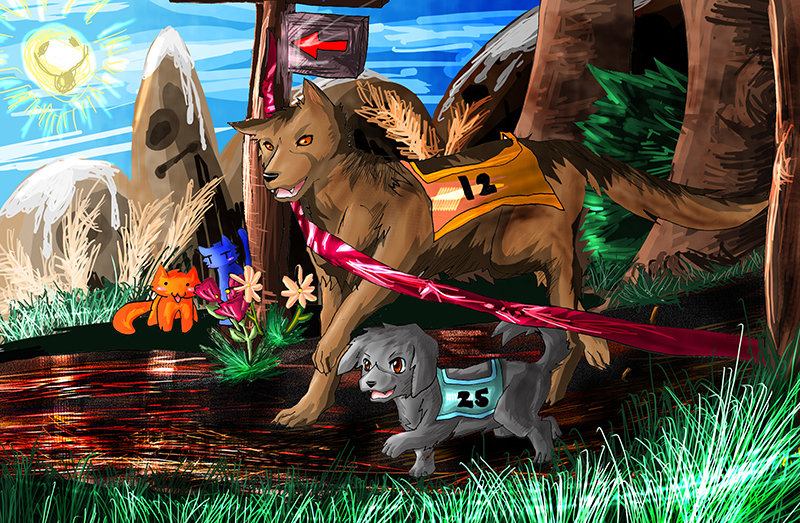 Description
:D LOOKY LOOKY! Been a while since I've submitted anything for a contest...=__= Why didn't this turn out the way I wanted it to? Mmmmm.....

Anyways! This is a contest entry for Edward_Elric_1308, who has a contest for drawing our own dogs or friends/relatives' dogs in Ginga Nagareboshi Gin/Ginga Densetsu Weed(looonnnggg title...xD) style! I did my best! I had to look at a lot of references so....xD I know it's busy...but in a way, I kind of went physco for the detail because of my new TABLET! MAHAHHAHA!! XDXDXD YEAH...WHATEVER. <3

These are my two dogs! The big chocolate-flavored one is the father of the little one! He's a mixed breed between a husky and a smaller dog...forgot what it was...

The black dog is the son! He's a mixed breed too obviously. xD Golden Terrier, Pomeranian and husky blood! They're both so adorable! That is one random background but you've known me for soooo long....xD Who cares! =__= I started the lineart and CGing before I got my tablet....so I guess that's why I don't feel like it blend well enough...dawwww.....

xD ENJOY!
General Info
Comments
78
Media
Digital drawing or painting
Time Taken
8 hours
Reference
Ginga Weed pictures online