There is No Shortcut to Education
There is No Shortcut to Education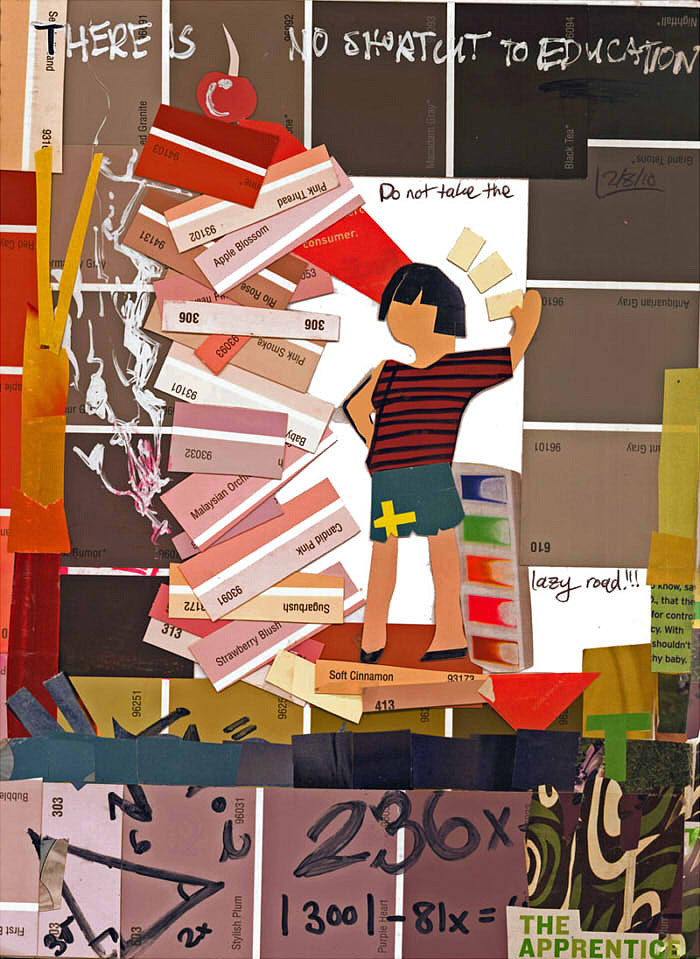 Description
This was an Art class project that required a display of "Colors." *snicker* Of course I was not going to do the same ol' same ol'. I permanently borrowed (took) many color samples near the Walmart paint section(
http://farm5.static.flickr.com/4011/4657069673_2e035c69aa.jpg
) and cut them up and glued them together to make shapes and color patterns.
The piece symbolizes my opinion of academics and working hard in school.
"There is no shortcut to education." The red apple is "SUCCESS." You cannot become successful by skipping classes and making decent grades on the tests after cramming the day before. You cannot cheat on a test and get a higher score and not feel guilty about it because the teacher did not catch you, and the person did not mind being cheated on. You cannot threaten, bribe, and blackmail other students, teachers, and friends to "help" your class score or essay look like you wrote it yourself. That is weak-
beyond weak
- and I cast my eyes down at you. It shows you are better off working in a low-paying trash dump than earning the higher degree and putting responsibility and hours into a better job that reflects your true ethic/passion.
I will admit, however, that I have had my fender benders with life and fallen for many of those previous ill enterprises, but what makes me different than those that kept their crazy antics hoping to "stream" by life without getting hurt too easily is that I punished myself. -And I mean I PUNISHED MYSELF. Even if I felt the anger and unfairness scraping at my feet, I told myself how immature I was for even attempting such a weak solution, for even showing how much more of a weakling I was for giving in.
DO NOT TAKE THE SHORT ROAD PEOPLE.
The easy road. The less hurtful, painful, tear-ridden road. Every one of us will go through that road one day, no matter how much we take the detour to run away from it. Heck, many of us already have. So do not give yourself the temptation and just work hard like you are supposed to. With your own gifts and morals (yes, you have them), you can get far on your own, and you will begin to stop belittling yourself. Believe in yourself and do small acts of kindness not just for people but to show that when all else fails, at least you can do something for others.
"Far better is it to dare mighty things, to win glorious triumphs, even though checked by failure...than to rank with those poor spirits who neither enjoy much nor suffer much, because they live in a gray twilight that knows not victory nor defeat."
~Theodore Roosevelt
General Info
Comments
9
Media
Other crafts
Time Taken
7 hours
Reference