KHPopArt : Sora Poptart
KHPopArt : Sora Poptart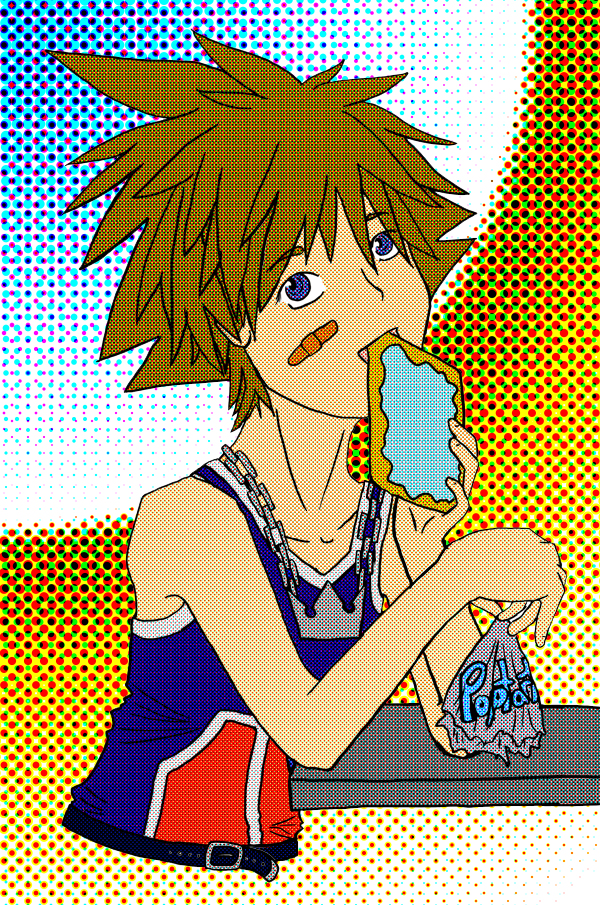 Description
Pardon the random background.
EDIT
Well...his head is disproportional...just realized that...I should've made his shoulders longer...-fails at shoulders-
Anyway, a project I've been messing with in my head for a while, and now I've finally forced myself to do it! :D Anyway, I love the Pop Art style. I mean I seriously LOVE Pop Art. LOVE. We learned about it in my art class in eighth grade and fell in love, and thanks to digital media I can finally make some!
So anyway, I plan on doing the kh characters, in a pop art-ish style. They all have assigned foods for it, and all the foods include the word ' pop '. Sora was, obviously, Poptart. I've got some detail shots of this (so you can see the dots better), I'll put a link when I get them up.
EDIT
eye+face+hair
http://www.deviantart.com/deviation/60451715/
poptart bag+arms+table
http://www.deviantart.com/deviation/60451811/
shirt+belt
http://www.deviantart.com/deviation/60451978/
But yeah, THIS WAS SO FREAKIN' FUN!!!! Honestly, learning how to do digital lineart has opened soooooo many doors for me. D: So very very very many doors.
this image made possible by the following tutorial:
http://www.deviantart.com/deviation/22738292/
all copyrighted characters/brand names (c) their respective owners
-for those who don't know what pop art is-
pop art is...well, I don't much know how to explain accurately(this link can:
http://en.wikipedia.org/wiki/Pop_art
)
There are variations of the style, this piece in particular is the more comic-bookish type, with all the dots that make up the colors of the comics. (you can see them in your newspaper if you look close enough)
Anyway, some great example of artists who use the type of art constantly:
Roy Lichtenstein
Robert Rauschenberg
Andy Warhol
General Info
Comments
10
Media
Digital drawing or painting
Time Taken
3 hrs?
Reference
tutorial