Dukein' It Out Jurassic Style!!!
Dukein' It Out Jurassic Style!!!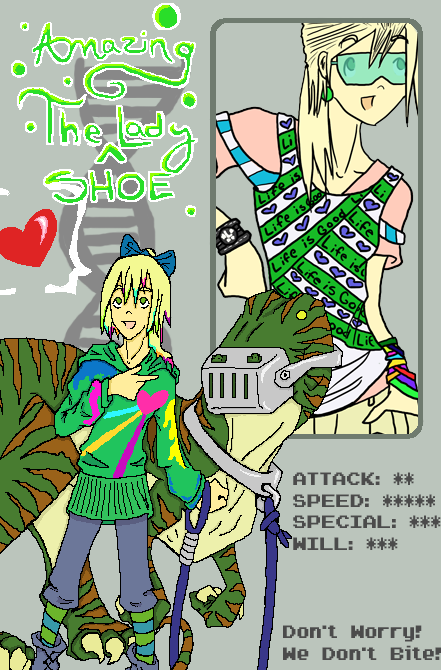 Description
I loves it so. <3

(Quick intermission! What's this, you ask? It's a Pixel Fighter ID; the latest trend, or 'bandwagon', of DeviantArt. You create a Marvel vs. CAPCOM type pixel fighter version of your self, then you do a portrait in your normal style. Then you have your 'stats' and all that stuff. If your on DA, you know all about it. If your not on DA...D8...)

I worked for, what, DAYS on this. xD But yes, it looks bad in comparison to others, but I love it all the same.FIRST TIME DOING A PIXEL. D8 It was soooo hard. But it was soooo much fun.

And I love dinosaurs. D8 *hugs baby dino* (yes, he's a baby. xD) And that's the first dino/animal thing I have drawn in a LOOOOOOOOOOOONG time. D: And it came out pretty good, if i do say so myself. :D But the whole pixel didn't fit!!! D8 I made it to big, and shrinking it makes it look non-pixely!!!! -shot-

Oh, and my pixel-self's head and face look retarded but I don't know whyyyyyyy!!!!! D8 -sob- And pixel self is more tan than my real self. xD I wish I had a tan, but noooooooo, I FRY. (not bake; everything in the south fries) If you're looking for the most accurate resemblance of me, it's the portrait. Seriously. That's honestly EXACTLY how I look. Give or take a few 'anime style' details (aka non-realistic eyes. My eyes are green, but they're a weird shade of green). xD -shot-

D8 I wish I had the ends of my hair dyed in a million different neon colors. That would be so cool. And I wish I had those glasses. -cry-

And in case you don't get it, the thing between 'The' and 'Lady' is a carrot( grammar type, sp?) for the 'Amazing'. Kind of like someone left it out and then had to write it in. xD -shot-

Oh, and the DNA strand background has few reasons: A) I love Science. B) C'mon, if you've seen Jurassic Park (<3) you'd know. C) On DA, my 'label' is Mad Scientist.

Well...yeah. I worked so hard on this and have nothing else to say about it? D: Oh well. Enjoy my spazzing dino fighting ID.

Oh, and Imma gonna post the full versions of the pixel and the portrait...later...on...Cause I don't feel like it right now.
General Info
Comments
4
Media
Digital drawing or painting
Time Taken
4 days at the least D:
Reference
Me...and pixel tutorials