The Cullens Family
The Cullens Family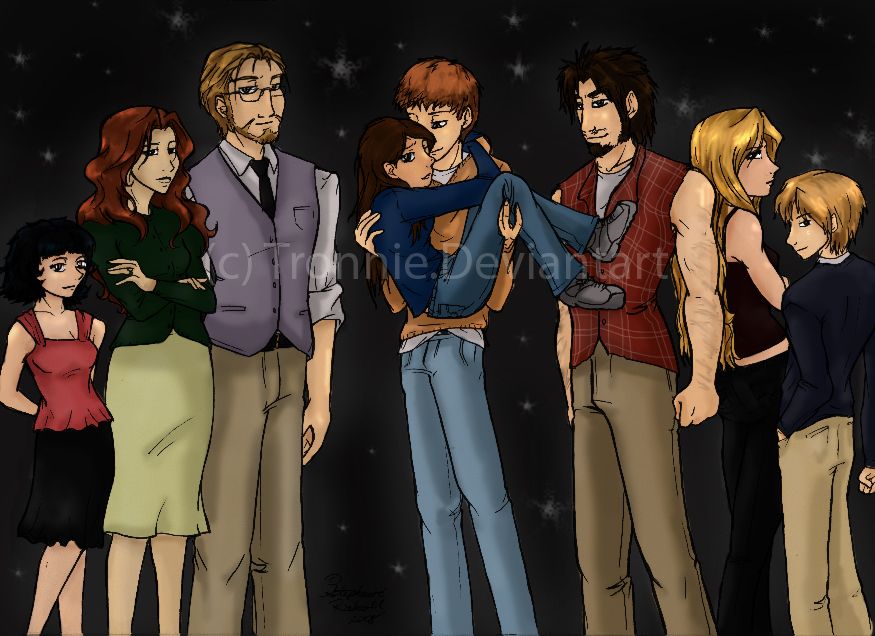 Description
Twilight. yes I know.
but it's a GOOD BOOK dangit! ><

PLEASE FULL VIEW** it's not pretty if you don't : (

I wanted to get my ideas of the characters down on paper before they were ruined by the movie actors and so forth.
so THIS IS HOW I SEE THEM don't flame about how they're not right or whatever.

so, from left to right:
Alice, Esme, Carlisle, Bella, Edward, Emmet, Rosalie, and Jasper.

and actually, if I'd been honest with myself (and not so afraid of the angry fanppl) I would've made their hair the color I really saw it as: Carlisle, Edward, and Emmet were blond; Rose and Jasper were dark haired and so was Esme. I guess I totally missed the Emmet with curly hair thing.. I bet I'm the ONLY one who pictured him like this lol

but here they are in all their cannon glory, complete with random sparkly background : )
sorry bout the watermark, but you know how it is...

TWILIGHT AND ALL IT'S CHARACTERS BELONG TO STEPHENIE MEYER!!!! I don't even pretend to own them.
General Info
Comments
43
Media
Digital drawing or painting
Time Taken
Reference