Chapter 8 - The Skies of Arcadia movie
Author

_ren_tao_fan_

Submitted

August 6, 2012

Updated

August 6, 2012

Status

Incomplete

Chapters:

14

Size:

12k

Words:

3,748

Comments:

0

Views:

1,207

Faves...:

0

Rating:

0

I keep a dream journal, and I thought I'd put some of the more interesting ones up here.
Chapter 8 - The Skies of Arcadia movie
Chapter 8 - The Skies of Arcadia movie
Characters that appear in this dream: Vyse from Skies of Arcadia and Gau from Final Fantasy.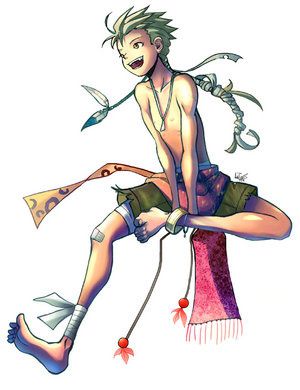 -----------------------------------------------------------------------
Dad, Jackismyman, and I were watching the Skies of Arcadia movie, which of course differs almost entirely from the actual Skies of Arcadia (this IS a dream, after all). I remember there was a small beach house and a foggy ocean (a water ocean, not a sky ocean like in the game). There were two babies, one of which was Jackismyman and the other of which was Gau from Final Fantasy.

When the movie started, I, for some reason, expected a herd of sheep to appear. This didn't happen. At some point a great war or an apocalypse must have occurred, because the world was a lot emptier and sadder at the end. Gau, 4 or 5 years old at this point, and two other boys who might have been his brothers, were sitting on a grassy cliff overlooking the sea, waiting for someone. When that someone did not appear, Gau started to cry. I'm guessing their mother went missing during the war/apocalypse.

Their father, a sheepherder (who we'll call Vyse, just so this has SOMETHING to do with Skies) stares wistfully out at the ocean until his sheep stare and bleat for him to come. (Dad mentions at this point how generic it is for a flock of sheep to appear.) Vyse tears his eyes away from the ocean and looks at all the minivans, packed with people and possessions, heading over the hills to their respective homes. There's a sense that the world is returning to normal, and Vyse makes a decision to take the children and return to his homeland as well.

After the movie, Jackismyman and I go downstairs to play the REAL Skies. The last thing I remember is that Valuan ships were destroying a small town by ramming their hulls into the buildings. It was dark and cloudy in this scene, so I'm guessing the ships were destroying one of their own towns for one reason or another.