"Well, Well, Well...."
"Well, Well, Well...."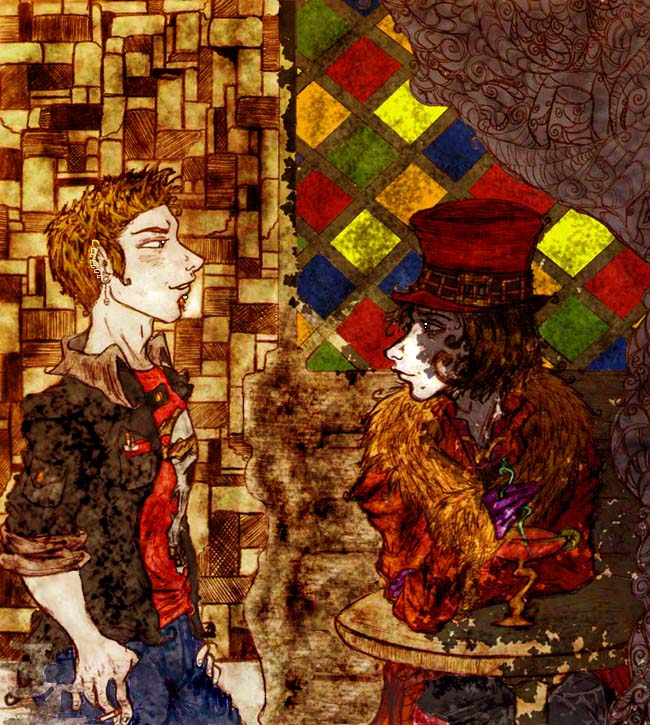 Description
"....Mr. 'Willy Wonka', who would have thought i'd ever see YOU again..."<br />
<br />
Looking up, Willy saw a young man leering at him, looking none to kindly.  <br />
Setting his drink on the table Willy studied the stranger, letting his fingers run idly over the straw between his fingers before speaking.<br />
"...Do I....know you?"<br />
<br />
He laughed, the stranger that is.<br />
"Has it really been so long that you don't even remember me? Oh well' He took a drag from his cigarette, 'Guess i'll have to jog your memory won't I?" <br />
<br />
--------<br />
<br />
HA!! No more reading for you guys! X3 Tis ok tho, it would have sucked if i'd gone on.  Use your own imagination damnit, you don't even want to KNOW wut's going on in my head! >=B<br />
<br />
*waves hand toward picture* Yea, just a picture i drew up depicting a future meeting of Willy and Mike - who looks quite sexy if i do say so myself.<br />
<br />
*grumbles* ...i don't like the outcome of it...i need to re-color it or something....  stupid picture....
General Info
Comments
13
Media
Unspecified
Time Taken
Reference