Princeps Mathematicorum
Princeps Mathematicorum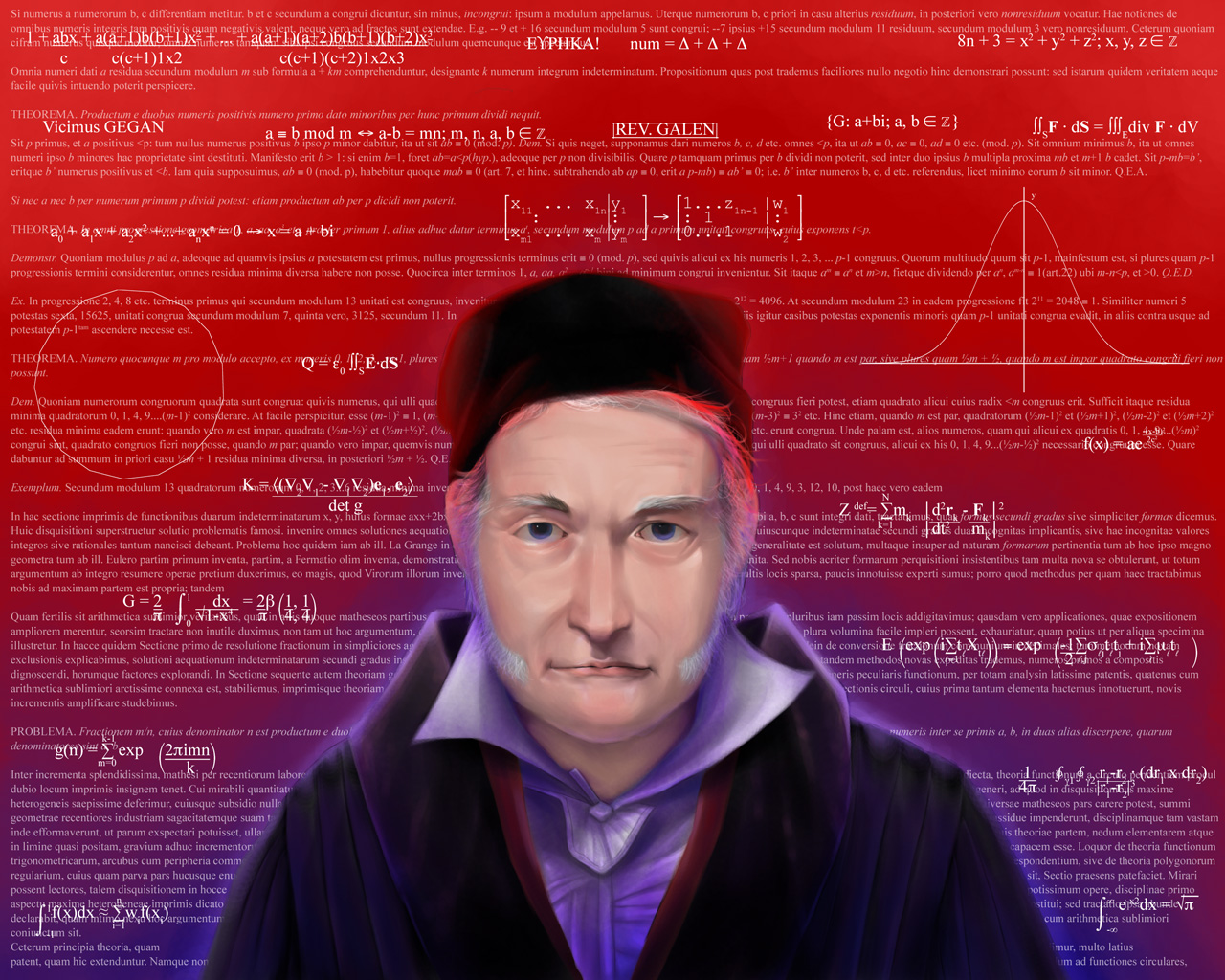 Description
Okay, so I'm a total geek for posting this, but...

The Latin title means "Prince of Mathematicians", although I've heard it as "Prince of Mathematics", so I'm not sure which one it is. If it were the latter though, I think it would be "Princeps Mathematicarum" instead.

I realize this isn't entirely much like all the other stuff I draw, and the subject matter is certainly not the most attractive (I know lots of you dislike, and even hate math)--however, I will say it's the best portrait of real life people I've done so far. Ever. For those less mathematically inclined, this is a portrait of one of the three greatest mathematicians in history, Karl Friedrich Gauss. I won't go into the full details of his biography and write a lengthy essay about it, but in a nutshell, he was a genius, and child prodigy. After reading about his contributions to mathematics and a lengthy (70 pages!) biography about him, I was compelled to draw him, mostly for what he has contributed, but also for the fact that he doesn't discriminate against women, so long as they're proficient at math--in fact, he probably had several pupils and students (mostly male) that didn't meet his standards. Although it's probably not fair to compare someone like Sophie Germain to them. I also admit that I was touched by his humbleness and devotion to mathematics; for he did not want fame or money; he did math because he enjoyed it, and wasn't exactly rich for his entire life, even though he was around people that could afford giving him such luxuries, and his fame was so great that one might have expected him to be rich. I admire people who operate like this.

For those who actually care, the equations in the background are contributions from Gauss, although he's probably made a lot more than that; I just didn't have a way to transform all of the theorems, proofs and other ideas into formulae. You'll also notice that some of them are things taken directly from his math journal that he kept, although most of it is supposed to be incomprehensible to people who have little knowledge of advanced mathematics. I admit I'm not as well versed in mathematics as some people (hey, I'm not a genius), so I don't actually use or understand some of the equations, and were only included to acknowledge what Gauss did. The Latin words in the background are parts taken from his Disquisitiones Arithmeticae, Inquiry of Arithmetics (I knew Latin was good for something), which contains quite a bit of the foundations of number theory that we use today. It's also one of the few things he did get published.

I also admit that I used a painting of Christian Albrecht Jensen's version of Gauss' portrait as reference. It's a really nice piece.

I'm also quite glad I drew this, because the Disquisitiones Arithmeticae and the title, "Prince of Mathematics" appeared on a math history test I was taking, and because I used part of it in this piece, I recognized that Gauss wrote it. If I hadn't drawn this piece, I might not have known that.

I've also just realized this piece contains my three most favorite things: art, Latin and math.

EDIT: Thanks very much for the feature guys. I wasn't expecting it.