Consumed In Costumes
Consumed In Costumes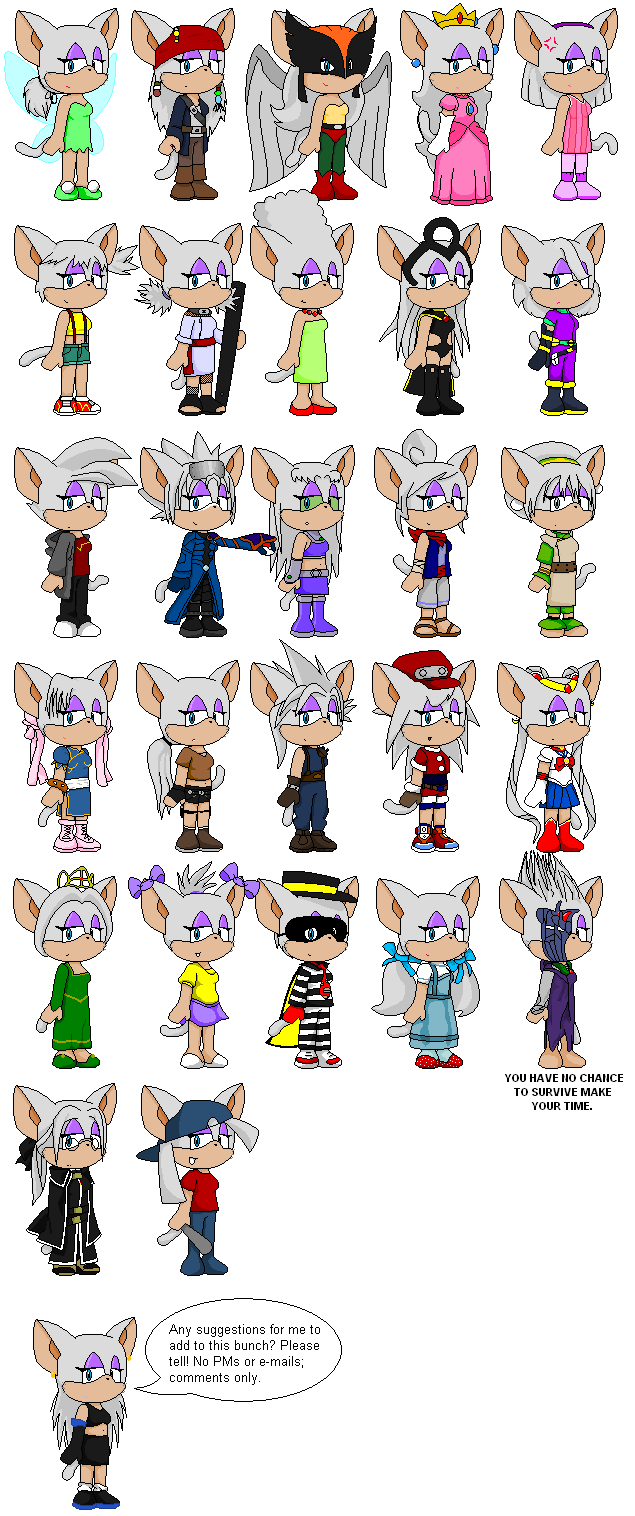 Description
See if you can guess who all the characters Kristin is dressed as without looking at the list below!
~~~~~~~~
Kristin the Cat © DarkPeach (myself)
Tinkerbell © Disney
Captain Jack Sparrow © Disney
HawkGirl © DC Comics
Princess Peach © Nintendo
Stephanie © Magnús Scheving
Misty © Game Freak
Temari © Shonen Jump
Marge © Matt Groening
Storm © Marvel
Dr. Blight © DiC
Erik © dynablade_ex (Fanart Central and DeviantArt user)
Wes © Nintendo
Starfire © DC Comics
Tetra © Nintendo EAD
Toph © Nickelodeon
Chun Li © Capcom
Lara Croft © Core Design
Cloud Strife © Square Enix
Roll © Capcom
Sailor Moon © Toei Animation
Princess Fiona © Dreamworks
Babs Bunny © Warner Bros.
Hamburglar © McDonalds
Dorothy Gale © Metro-Goldwyn-Mayer
Cats © Toaplan
Abel Nightroad © Trinity Blood
Joel Dawson © Matt Wilson (High Score: Bonus Stage)
If you suggest something, make sure it's not from the same series (even though a couple of mine are.)
Ex. Do not ask for Daisy, because Peach is already there.
Ex. Do not ask for Sailor Mars because Sailor Moon is already there.
Ex. Do not ask for Sheik because Tetra is already there.
I do accept suggestions of a person of the opposite sex (I have a few already.) Cloud Strife was just thrown in because I don't like Final Fantasy. >:0
Enjoy.
Characters waiting for addition:

Spongebob (Spongebob Squarepants), Bobobo or Beauty(Bobobo-bo Bo-bobo), Ichigo (Mew Mew Power)
Edit (June 10): Heh, sorry for such a long wait. Too busy with other stuff... school ends for me soon. Be happy. I only got two done also... I apologize. Lazyness, I guess?

Also, Zelda has been rejected because Tetra is in the picture. And thank you for realizing I do not want to do Katara since Toph is up here.
General Info
Comments
29
Media
MS Paint
Time Taken
Reference