Terra and Raven: the fight over BB
Terra and Raven: the fight over BB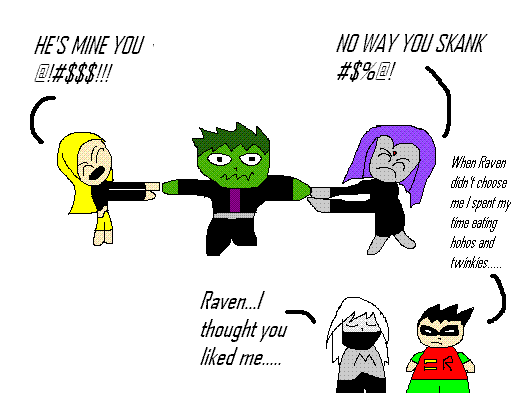 Description
BB: Why is this happening to me? Come on ladies there's enough of me to go around!!<br />
Terra: He's mine you *censored* <br />
Raven: No way you *also censored* <br />
Malchoir: Raven...I thought you liked me.....<br />
Robin: When Raven didn't choose me I spent my time eating hohos and twinkies. <br />
<br />
Emma: I say go Terra!<br />
Other side of Emma: No way you know you want Raven and Beast Boy to be together!<br />
Emma: But..But I just don't know!!! <br />
<br />
Real Emma: Okay.....go both girls.
General Info
Comments
17
Media
Unspecified
Time Taken
Reference