Engagement Issues
Engagement Issues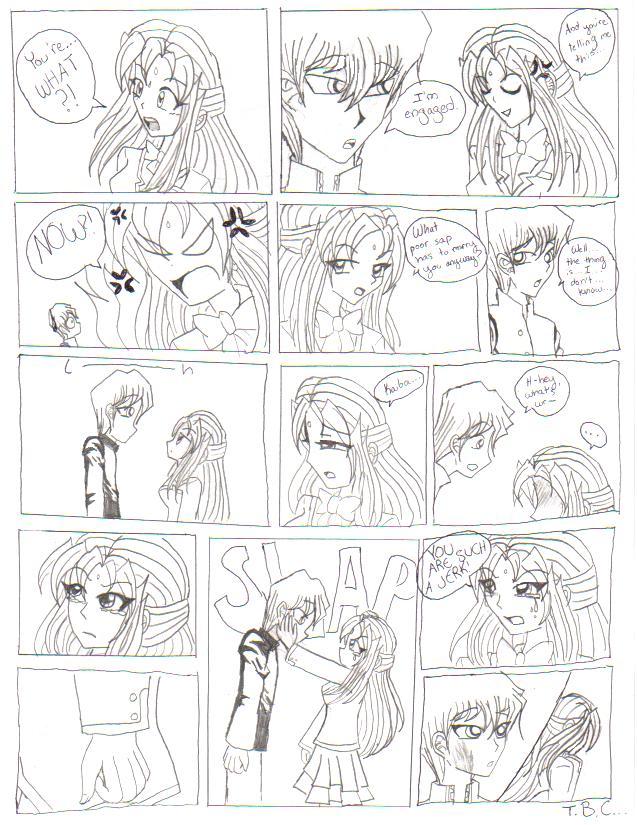 Description
I have no friggin idea WHAT in God's name inspired this. I guess I just wanted to draw Kay slapping Seto...man I'm mean.
Well, uh, here's the story. Seto finds out that he is suppossed to marry some heiress for his company to make it grow. He doesn't want to but they've given him no choice.
They also did not tell him who it was. Kay notices something is wrong so she asks him and he finally tell her and this is the reaction.
Lines:
Kay: You're...WHAT?!
Seto: I'm engaged.
Kay: And you're telling me this...NOW?! What poor sap has to marry you anyway?
Seto: Well...the thing is...I don't...know...
l-h (Silence)
Kay: Kaiba...
Seto: H-hey what's wr- (A.N: He thinks she's gonne cry...and he's right)
SLAP
Kay: YOU ARE SUCH A JERK!
T.B.C
btw, in the last panel with Seto in it, that stuff on his face, it's suppossed to be a hand print from where she slapped him.
Well you all voted and it's decided. It WILL be in my story and Seto is engaged to...eh, just read it.
http://www.fanart-central.net/story-47011.html
General Info
Comments
30
Media
Graphite pencil
Time Taken
I don't know
Reference
Verious Manga