Tanya Pyrany
Tanya Pyrany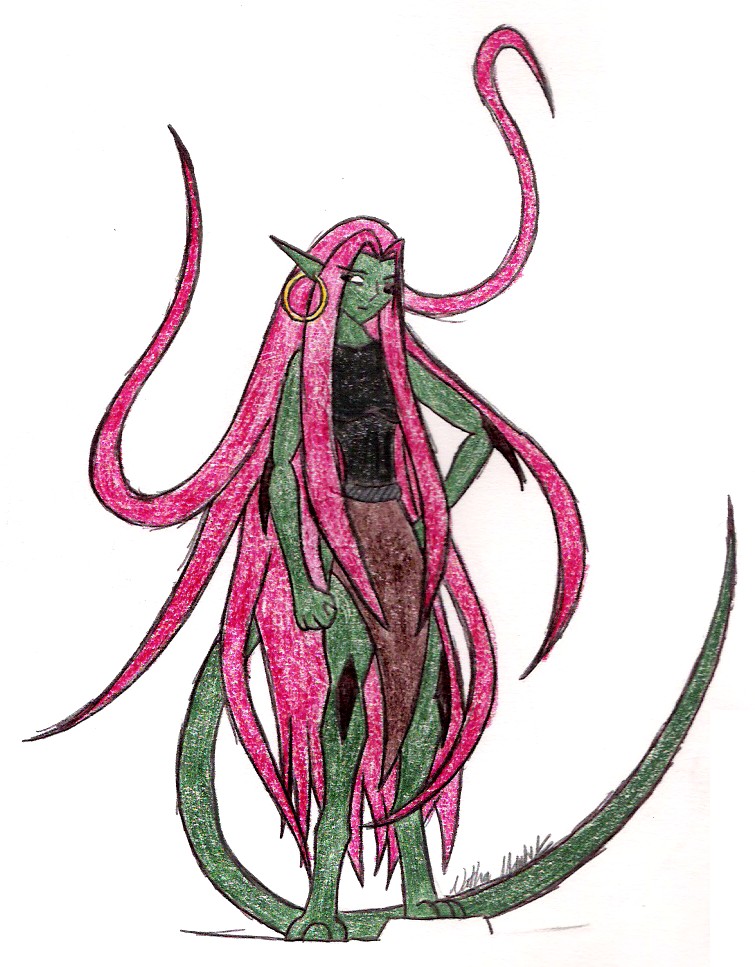 Description
Ah yes, Tanya Pyrany, this is a picture that has been floating around in my head for quite some time now. Her last name, Pyrany, is also the region she is from, and her clan name. The pyrany are natural born warriors, experts in several styles of the martial arts, both known and unknown; as well as many kinds of weaponry, from the most basic slignshot, to the particle weapons of the future. Even their hair is a weapon; the strands are actually modified nerves, rather than dead skin. It grows slowly, so as not needing to be cut, which is the most painful experience a Pyrany can endure. The strands can change from being soft as silk, to sharp as titanium in a matter of moments.

While Pyrany (the region) is a mountainous region in the north, there is no winter, only constant summer. This is good for the reptilian Pyrany, who thrive in the light, and many seldom leave their home. They are often referred to as "a people removed from time" because they use basic tools, as well as highly advanced machinery, side by side.

Back to Tanya; a youngster according to her people's callender (the average Pyrany lives roughly 500 years) at the age of 26, she already has the hair of one three times her age. While this is rare, it is not unheard of, and simply means that she is special. She is, as her people call it, a "kaltek"; one who is born of the ancestors; only a few are born each generation. Tanya rejected this honor in favor of leaving her home, to journey to the south where she had heard of another land of "Endless Summer," much liker her own. She did this because the population in Pyrany was groing to fast, and they needed somewhere else to live.

When Tanya was very young, she had gotten into a fight with her mother who lashed out with her hair (her mother has a very short temper). It resulted in Tanya losing her left eye, and having it replaced with a cybernetic one. She doesn't like that it scares people, since she may be a warrior but she is also very kind.

Now, on to my opinion of my picture, I suck at feet, I know. I honestly couldn't decide on a hair color, since black was really overdone on it. Anyway, hope you like it.

Please comment.
General Info
Comments
4
Media
Unspecified
Time Taken
Reference