Jy'ranas
Jy'ranas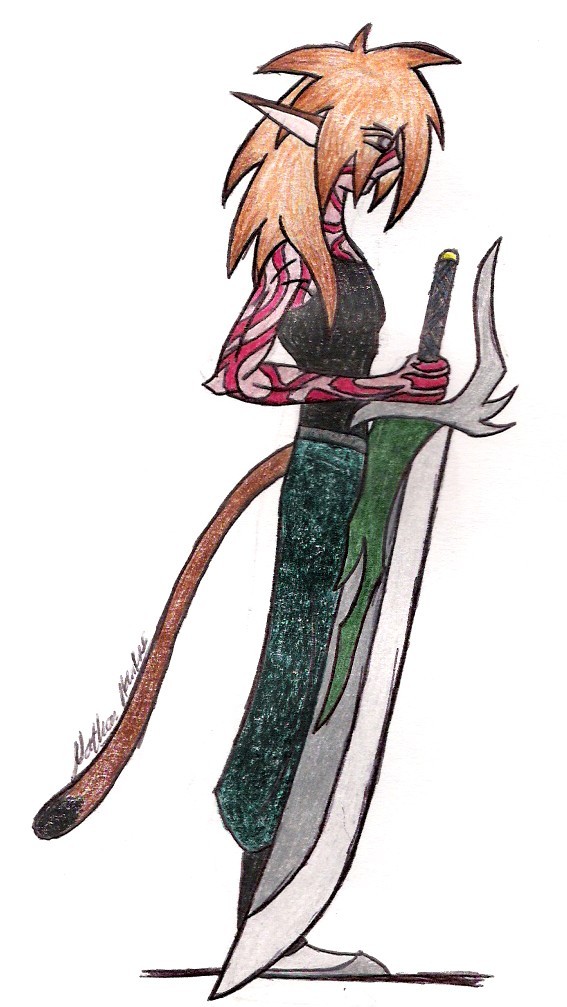 Description
Jy'ranas was created by the ancient race who built the machines which create "Endless Summer". For those of you who remember, this is was Tanya Pyrany's people need to survive. He has no memories of his life before meeting the young Pyrany Kaltek, nor does he know what the markings which cover his body mean.

Jy'ranas is one of only a few Thymes (what his race calls itself, in the Ancient tongue it means cat) left on the planet, this means that he, or others like him, are in high demand by zoos and private collectors. Because there are so few, and sightings are so erratic, some believe the Thyme are nothing but a myth, but for Jy'ranas, they are quite real.

Without any memory he has no recollection of how old he is, but when placed in a deep trance, he can see flashes of his life before the cataclism, before his creators were wiped out. This, unbeknownst to him, happened more than 100,000 years prior. In all that time he has remembered and forgotten everything over and over again, refreshing his body and mind every few thousand years to keep himself from being overloaded with information.

He meets Tanya in the wasteland that surrounds her home, and, at the time, he had seemed to be an empty shell, just walking with no direction or purpose. Upon meeting the Pyrany, he came to life (so to speak), and decided that she would need a travelling companion and guide. Despite the loss of memory, he can still recall the paths and trade routes between all the cities of the eastern continent. Unfortunately, he cannot remember where he came from, or where he was going.

While he does prefer not to fight, he does carry that massive sword for a reason. That sword, though, is much more than he realizes, it carries with it his mother's soul. It is believed that the sword, along with the markings on his body, are keys to a map, which will lead he and Tanya to the new "Endless Summer", and the Pyrany people's salvation.

I've drawn up another picture of him from the back so you can see the extent of the markings. The markings in that picture don't line up, but please bear with me on that.
General Info
Comments
6
Media
Unspecified
Time Taken
Reference