Sayuna
Sayuna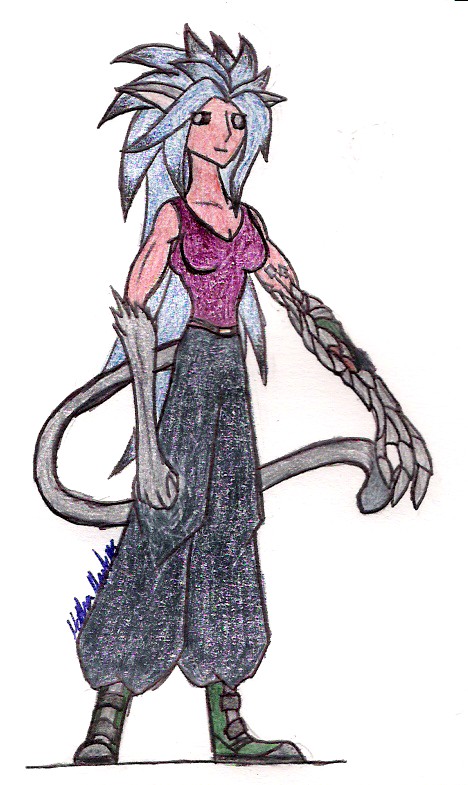 Description
This is the female Thyme, Sayuna. She carries similarities to Jy'ranas, as well as all other Thymes, namely the tail and gray eyes (don't think I mentioned that one last time). The differences between them is her ears are more towards the top of her head, her forearms are covered in thicker fur, and her tail is slightly longer (given that she is a good foot shorter than Jy'ranas). She also suffers from the same memory loss that Jy'ranas is inflicted with.

She does not know how she lost her left arm, but she does know it was in a war. The arm she has now she has had for almost 54,000 years, and has to make sure it works properly every few decades or so. It was made for her by one of the last Ancients, before he died. The arm never needs to be oiled, and contains several pieces of advanced weaponry.

When she meets Jy'ranas and Tanya, she instantly becomes possessive of him, because that is how female Thymes are. While Tanya found this behavior somewhat irritatin, she tolerates it. Even though she and Jy'ranas have travelled far, seen much, and grown close (close enough where he allows her to call him 'Jy'), she had never though of him as "hers".

Jy'ranas, on the other hand, appears to want nothing to do with the female's attraction, and continues with his normal routines as if she were simply part of the group. Some of these activities have included holding Tanya close to him on cold nights, to share warmth.

Thymes by design were to be a fairly emotional race, and, while most were killed off in the cataclysm, the few that remain still hang on to that small shread of their psyche. Jy'ranas, of course, is the exception, he prefers to remain quiet, reserved, never to trusting of even those of his own kind (he had been tricked before). Sayuna is a complete opposite to him, friendly and childish, she'll trust anyone, so long as they don't try to take Jy'ranas away from her (then she gets mean, and this often leads her and Tanya to come to blows).

Sorry, no markings on this one, only Jy'ranas has those. All comments are welcome, and I'm still waiting to hear from anyone who thinks I should do a story for these characters.
General Info
Comments
2
Media
Unspecified
Time Taken
Reference