Krishak
Krishak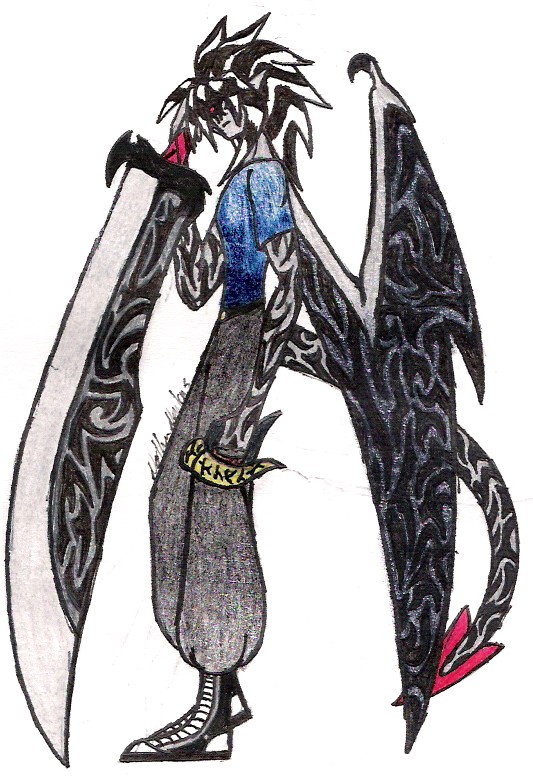 Description
Krishak, not much in known about this mysterious creature. He's cold, uncaring, and completely ruthless; a mercenary by profession, he seeks one thing, the irradication of every last Thyme. Why he does this, even he doesn't know, he's simply been doing this for as long as he an remember. His race, whatever is left of it, is possibly in even more danger of vanishing than the Thymes.

The markings covering his body are another mystery; like Jy'ranas, he also doesn't know where they came from. No one knows quite exactly what they do. Some believe it's linked to the transformation of objects, alchemy, or it allows him to control his sword from a distance, since it shares similar markings. While the mystery continues, it is quite certain we will find out sooner or later.

Krishak and Jy'ranas have crossed paths before, the first time was more than 100,000, when the ancients were wiped out. Neither of them remember this, mind you, but Jy'ranas has had flashes of those times past. Krishak prefers to forget the past and welcomes to oblivion of total calm that comes from a clear head.

While he is slow to anger, and is usually planning his next bounty (those Thymes he doesn't kill are often sold to zoos and collectors), he will sometimes snap and wipe an entire city off the map.

The thing in his left hand is more than a musical instrument, it's a sonic amplifier/resonator. Striking it with the appropriate force on an object sends sound vibrations through it, dismantling whatever was stuck to its most basic form. It literally rips the molecules and atoms apart bit by bit. Without a localized target, the sound waves don't simply disperse, everything in front of him is mowed down.

His sword, there truly is something special about it, but you won't know till I write the story. Still waiting for characters, just e-mail and you're in.
General Info
Comments
6
Media
Unspecified
Time Taken
Reference