Danil Dragoon (for Danielle_Dragoon)
Danil Dragoon (for Danielle_Dragoon)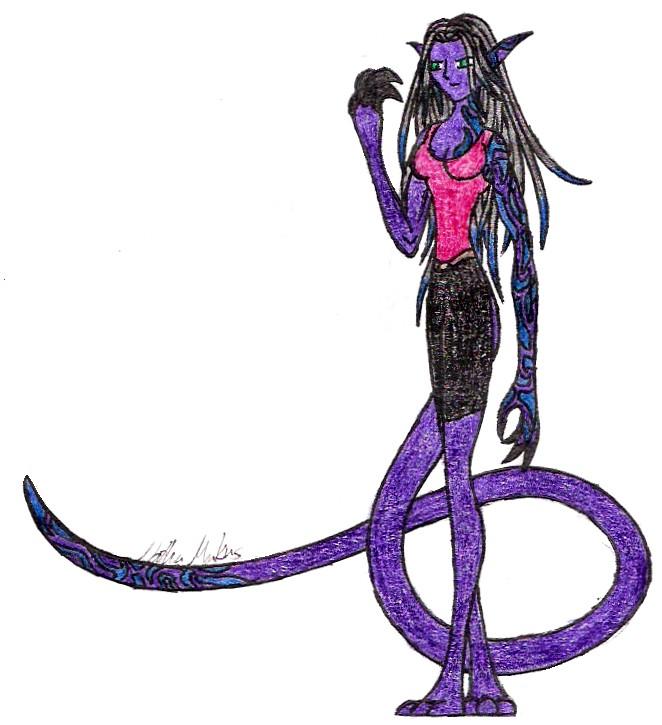 Description
Danil Dragoon's people, the Kiera, are distant relatives to the Pyrany, what with the obvious similarities. However, they lack the "dinosaur legs" of the Pyrany, favoring legs similar to our own. Their tails are long, and broad, making them superb swimmers. While they lack the modified nerves of the Pyrany, they are capable of hardening their fingers into flexible claws, able to rip through just about anything. More lithe and agile than the Pyrany, Danil's people are skilled fighters, but, like their cousins, prefer a peaceful existence.

It was their wish for peace which destroyed their people. The wars that ravaged the eastern continent had decimated their cities as well as their way of life. They are now nomads, wandering the continent, each clan keeping mostly to themselves. A highly xenophobic people, they will allow a wandering traveller into the group, so long as they don't stay long. With an average lifespan of 250 years, they may seem to have plenty of time, but in reality, they too are dying out.

It is here that Danil comes in, she had heard about the "Endless Summer" of the Pyrany, and the rumors of more of those machines dotting the continents; mainly in the extreme north or south, whereever the weather is too cold to support much life. She knows that if she were to find it, she could reunite her people there and hopefully the race could be saved.

It is on this quest that she meets Tanya and Jy'ranas, with Sayuna in tow. Let's just say that her and Tanya don't really get along - the two races never really did for some reason - and Jy'ranas is usually the one pulling them apart.

The markings on her left side and tail are her clan markings, they tell any other Kieras that she is from Dragoon clan. This clan is the largest of the Kiera clans, and that fact is no lost on Danil. She is the first daughter of the matriarch of her clan, thus she believes it is her duty to seek out the "Endless Summer". It is in this way that she and Tanya are most similar, since Tanya is a Kaltek, and her mission is the same as Danil's.

Still waiting for people who want in.
General Info
Comments
3
Media
Unspecified
Time Taken
Reference