Kir'atsun (for Danielle_Dragoon)
Kir'atsun (for Danielle_Dragoon)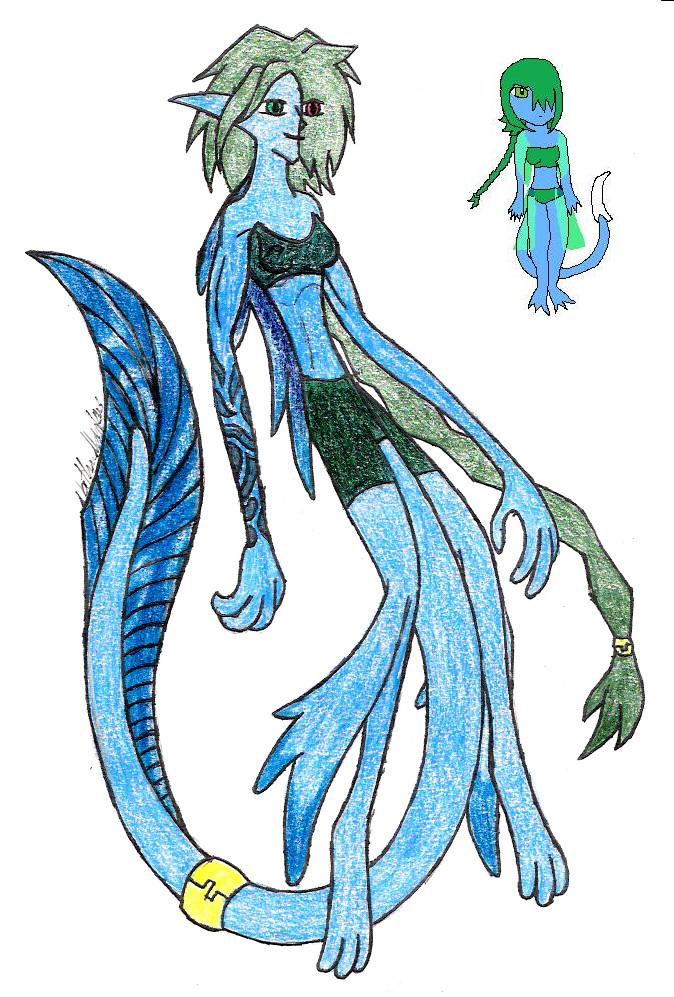 Description
Before I get to her background, this character was sent to me by Danielle_Dragoon. The original desgin for her was done in MSpaint by Danielle, and sent to me. Now, on to the background.

Kir'atsun is an Arutarian, from the underwater kindom of Arutaria (guess how long it took me to come up with that, come on, guess), a massive city built on the sea floor somewhere in the ocean seperating the eastern and western continents. They tend to keep to themselves, so not much is known about them. But here's what is known about them (according to Danielle); the obvious aside, they are a very strict and superstitious society, which makes them - like the Kiera - very xenophobic. They belive that some physical traits in a child can symolize how they will live their lives. Certain hair or eye colors are especially important in determining this; as well as time of birth, duration of birth, even if the baby struggles in its mother's arms after being born.

Unfortunately, Kir'atsun falls under two of these categories. First, her hair is green, the most rare color of Arutarian hair. For the first few years of her life, she was able to hide this by changing the color of her hair through different methods - including dyes, and even some magic spells. Her hair, though, paled in comparison to her second major "fault" in the eyes of her people: one of her eyes is red. This was easily hidden by pulling her hair over it, as shown in the picture.

All was good until, one day, she had been playing with some of her friends on one of the many small island that litter the Arutarian's empire. They had not visited this island before, and such didn't know of the certain chemicals in the water - left over from an ancient test facility. When Kir'atsun jumped in, the dye coloring her hair began to disperse and dissolve, causing a great panic in her friends. This, however, was unknown to her, as she surfaced with her hair pushed back over her head, and her left eye exposed. Her friends fled, the superstitions far too ingrained in their minds too even think that she might not be as bad as their elders tell them.

As soon as she returned to her home, she was banished, never allowed to return. The markings on her right arm are the brand of an exiled Arutarian. The only things she was allowed to take with her were two gold bracers (or something similar). The first is the large one on her tail, which used to be her mother's, the second she uses as a clip to keep her braid in place. That one was always hers, and she used to where it around her own tail when she was very small.

After her banishment, she made her way to the western shore of the eastern continent, near the Seacliffs of Tarsus. Her home is a large, sunken building, which happens to be an ancient library, and a massive one at that. It has been almost 10 years since she had been banished, and she has only read a fraction of the books contained within the library.

Here are some little tidbits about her people, first, they can change the structure of their bones and muscles to extend andy part of their body far beyond what it should. They use this to reach in to small crevices between rocks on the seafloor to root out small crutaceans, oysters, clams, pretty much anything that could hide inside it. Also, their tail fins are quite glossy, and shimer when the sun hits it underwater. The tail fin is mainly for power swimming, while the two at her knees are used as rudders for tight maneuvers underwater.

It is in a flashback that Jy'ranas remembers the library's location, and short trek from the city, Frejut, that gets them there. While Kir'atsun originally tried to spear them, believing them to be thiefs, but they prove themselves otherwise. Kir'atsun is impressed by Jy'ranas' skillful use of the computer, which she had never even been able to turn on, and soon she takes a bit of a shine to him, much to Sayuna's dismay (So I'm a bit of a Tenchi fan, it should explain why I draw mostly women).

Will this computer finally show them the whereabouts of the "Endless Summer"? Or is this only the beginning of another adventure? You'll just have to wait till I write the story, which I can't till I get some people who want be in it.
General Info
Comments
3
Media
Unspecified
Time Taken
Reference