Lisella
Lisella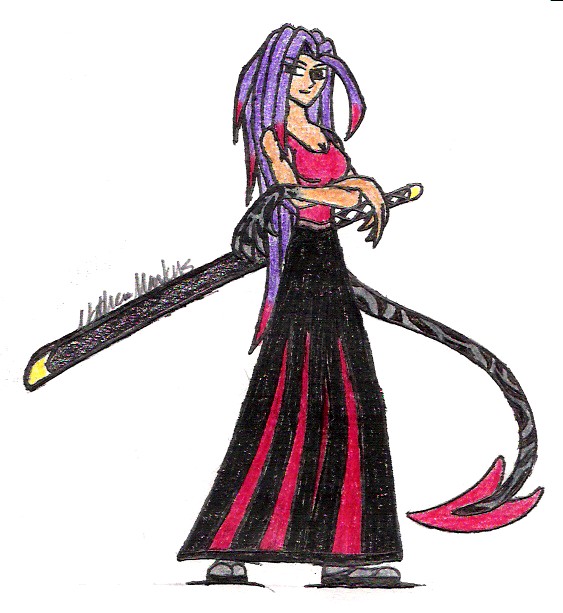 Description
Lisella, Krishak's sister, hunter of a good time, sometimes with a good Thyme. It's because of her lack of bloodlust that her brother abandoned her to wander alone, this happening roughly 75,000 years prior to now.

This was not the only reason, a couple others will be explained later. As you may notice, she doesn't look much like her kind, this is because she was granted a shapeshifting ability by her creator. This is the second reason, because she preferred to look like this than her true form (I might draw that later). Her shifting ability isn't limited to just her body, her clothes change as well; sometimes they even change without her thinking, going with her mood instead.

While I had said her race was rare, it was a bit of an understatement, she and her brother are the only two of their kind. They were created, not through procreation, but by way of someone, or something, much more sinister. The force that destroyed the Ancients and decimated the Thymes spawned these two from itself, instructing them to carry out its will.

Krishak did this with no question, wreaking havoc on the Thymes and other creatures. Lisella, though, was kind, and often hid her brother's targets from him. Unfortunately, she could only do so much, and while she did save many Thymes, many more were hunted by Krishak.

She now resides in a cave system beneath the wastelands of K'tath. It is here that a small colony of Thymes has been built and maintained through her efforts. These Thymes, though, are different from Jy'ranas and Sayuna, as they do not age as slowly as the old ones do. With each generation their life span decreases. Average lifespan for these Thymes is only 600 years now, and it is beginning to stabilize. This colony is also called home by the oldest Thyme known to exist, Malcolm.

She meets the others as they pass over the colony; their technology picking up the two Thymes' bio-signatures. At first she believes that they heard about the colony from an outside source, and wished to join. She was wrong, they had come to see Malcolm; they have a question for him.

Now then, what do I think of the picture? Honestly, I think I'm in a purple mood right now, since it's in just about every other drawing. There's nothing special about the sword, just her personal weapon.

Still waiting for people who want in, I got a whole colony of Thymes to fill now.
General Info
Comments
2
Media
Unspecified
Time Taken
Reference