Drake (for Chaos666)
Drake (for Chaos666)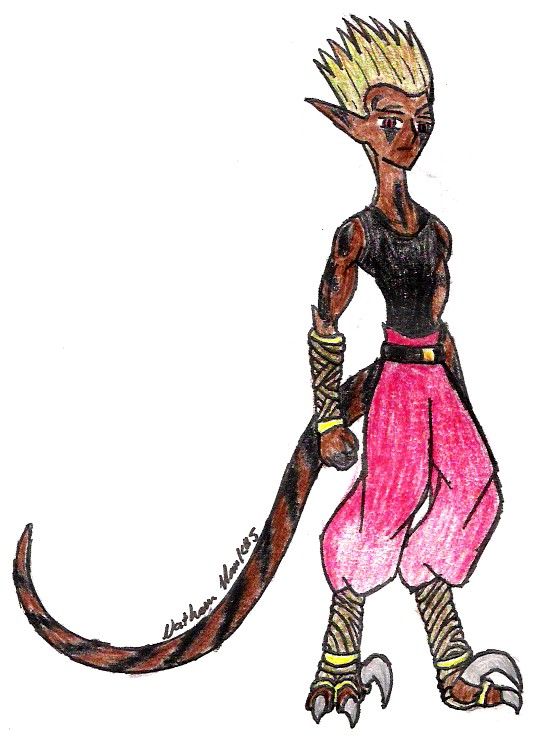 Description
First off, this picture was sent to me by Dan Sorice (AKA Chaos666), who basically said, a raptor-morph. It took me a while just to get the basic concept of what I wanted him to look like on paper, thus the long wait.

He doesn't have much of a background, since I wasn't given much of one, but I will try to make due with what I got.

Drake is a Tenwal, which are, as you can see, similar in almost all aspects to a Deinonycus, except for the head. His hands have three fingers, each tipped with a razor sharp claw, the tip of which can be dulled, if he wants. The two center claws on his feet are his main weapons, and can shift themselves to be placed almost behind his legs, when not in use.

But, even with all these weapons, the Tenwal are much more pacifistic, only fighting when absolutely necessary, or if they are attacked first. They will also not stand by and let an innocent suffer.

Drake's past is a mystery, no one knows who he is or what he does. All we know is that he stepped off a boat from the western continent with maybe four or five companions, who all went their seperate ways. Some say they're the last of their kind, but those are people who have never even seen a Tenwal, let alone had actualy contact. He prefers to be alone, moving on tirelessly from place to place, never saying anything to anyone. Occasionally, he will lash out at a wrong-doer, incapacitate them, then be on his merry way.

That's all about him, because that's all I could come up with.
General Info
Comments
3
Media
Unspecified
Time Taken
Reference