Nokomis Spencer
Nokomis Spencer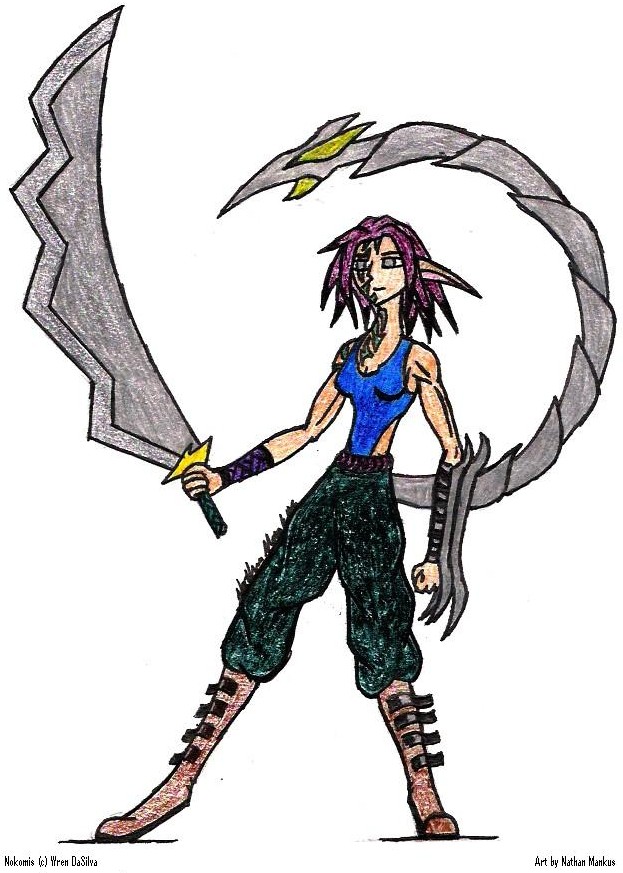 Description
Nokomis Spencer, a character submitted to me by Wren DaSilva (AKA Wrenna). The original pic is on her art page, so I suggest you check that out. All rights to this character are owned by Wren, I am merely borrowing her design, and constructing a history for her for my gallery. Now, on to the bio.

Nokomis is a female Thyme, duh, who was born at the Thyme colony, thus she is considered to be a "new born." Her parents, though, left the colony when she was very young, the reasons for this have been lost to the sands of time. While travelling, they were unaware that they were being tracked by the Thyme hunter, Krishak. Having sensed his presence, they were able to hide Nokomis in a small cave before they suffered the same fate as so many Thymes before them.

Being only six at the time, Nokomis crawled from her hiding space to see the mutilated bodies of her parents. Certain parts appeared to be missing, either taken as trophies, or been eaten by scavengers. She buried what was left of them where they lay, and mourned them in the way she was taught. It wasn't long afterwards that she began to scavenge for food herself, mostly eating berries and plants she knew to be edible. It was defining stroke of luck that they were next to a forest at the time.

Most of her weaponry she made herself; her sword is the spinal blade of a vernak (picture will be made up soon). The armor on her tail is also from a vernak, the interlocking plates are metal, but a type of organic metal that moves and flows with the shape of her tail. The blades on her arm were not made by her, nor were they found, they were shoved into her hands by her father before she was placed into hiding.

Now, almost 20 years later, she has grown into a formidable hunter, the mistress of her forest. The clothing she wears was her mother's, except the boots, those she made with the hide of a colath. In those years she has been denied the learning experiences one usually obtains through years of living among others. This has made her somewhat rude, and tactless. Other Thymes, those who have been alone, wandering, for countless centuries, have become accustomed to their solitude. She feels she can only trust those of her own species, and even then it is a shaky trust, having not met another Thyme until Jy'ranas and the others show up.

Then he does show up, though, she remembers stories told to her by Malcolm, about the marked one, the one with the darkness deep within him, the one who could destroy the ancient evil which still threatens them. These memories are one of the few reasons she trusts him. Another reason is that he is the only one she knows of to have stood up to Krishak and survived. She also has shaky trust in the Pyrany Kaltek, Tanya, if only because of the legends of Kalteks become almost godly when they reach a certain age and power.

While the years of loneliness have hardened her, deep down Nokomis would like nothing more than a friend, a family, someone to love and care for, to protect – as it is with all Thymes. They were created to be protectors of the Ancients, and did so to the best of their abilities. Now, all Thymes, as well as the generations that follow, are ingrained with the need to protect. Nokomis has found something to protect in her companion, a wounded folkn – a creature similar to a wolf, but with feathers on it's shoulders and flanks.

That's it for now, don't forget to check out Wren's gallery, she's got some good stuff there.
General Info
Comments
2
Media
Unspecified
Time Taken
Reference