Sashna Kinal
Sashna Kinal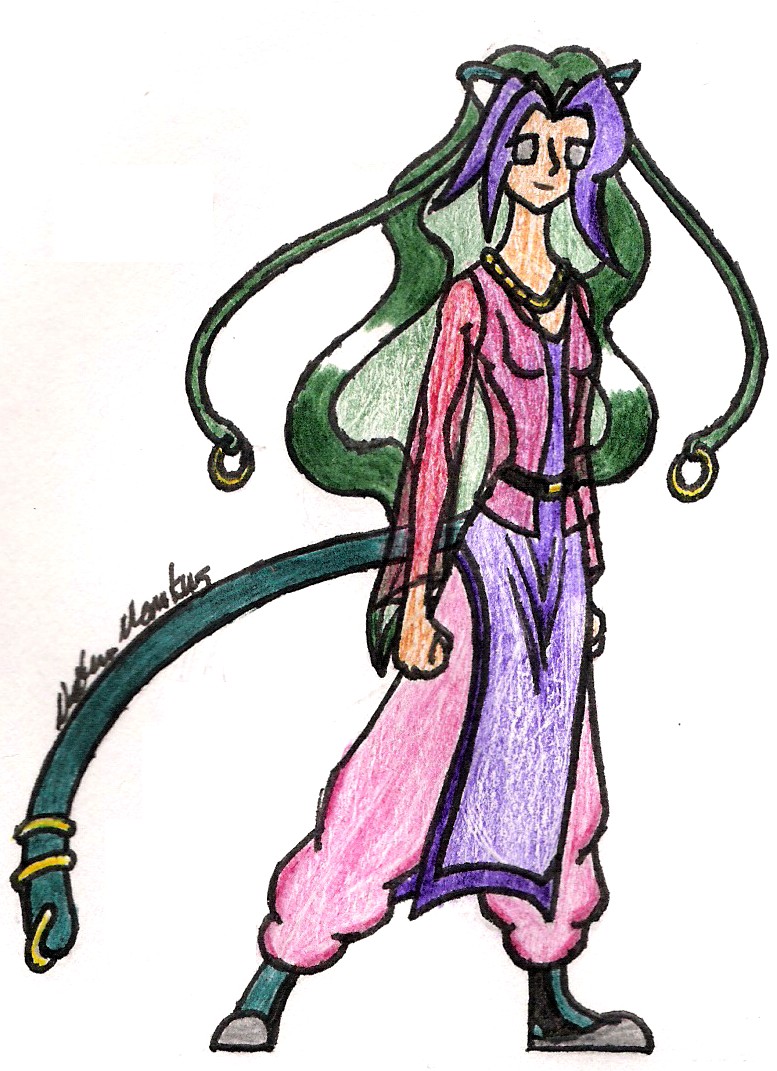 Description
This is Sashna Kinal, a Thyme that Jy'ranas had liberated from a greedy Kapmar's collection. While in his possession, she was treated mainly as an exotic pleasure slave, which is where the ring in her tail is from. The ring cannot be removed, since that spot on the Thyme body is the most sensitive place on them, acting as both an erogenous zone and an extemely painful pressure point; painful enough to immobilize the Thyme if enough pressure is applied. With a simple tug her owner could have her on her knees anytime he wanted.<br />
<br />
That changed when Jy'ranas learned of it from one of his contacts, and set out to rectify her situation. The guards were dispatched easily enough, as was the Kapmar, who had been in the middle of proceeding to rape Sashna. To have witnessed such a sight had caused Jy'ranas to form a soft spot in his heart for the young Thyme; thus he has always treated her slightly differently from others that he meets.<br />
<br />
Sashna now owns a small showclub in one of the more desolate cities in Midgra. There she performs traditional dances and songs for travellers, while leaving her employees to do the more erotic pieces.<br />
<br />
The club also doubles as a safehouse for Thymes on the run, sort of like a station on an underground railroad. In this place, Krishak, or any other hunters, cannot find them by any means. Sashna is safe because of the ring on her tail, which leads all those looking for thymes to believe she is property to another owner.<br />
<br />
She, too, has a small crush on Jy'ranas, though "small" would be a vast understatement.<br />
<br />
This was my first attempt at wavy hair, how did I do?
General Info
Comments
3
Media
Unspecified
Time Taken
Reference