kyo says
kyo says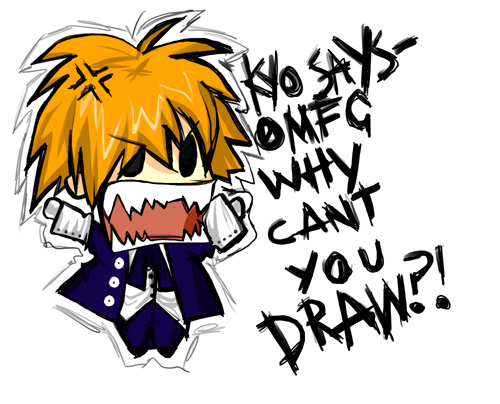 Description
question why is there crap like the pillows in the Jrock/Jpop section and OMFG no pierrot ARGHHH WTF Pierrot friggin own. there's no gazette or orange range either. what a sin. But c'mon NO PIERROT?!!! Have you even heard pierrot. If not go and listen. Yuuyami suicide is 1 of their best to many ppls.<br />
<br />
anyway was OC'ing with marourin and we both hated ours I couldn't even think what to do for mine so in the end I did my oh so awesome spaztastic Kyo of dir en grey D<br />
<br />
Bwahahah I love Kyo he's so easy to draw cos of his look and attitude you can draw him like a spaz.
General Info
Comments
21
Media
Unspecified
Time Taken
Reference