Dragon of Elements - Darkness
Dragon of Elements - Darkness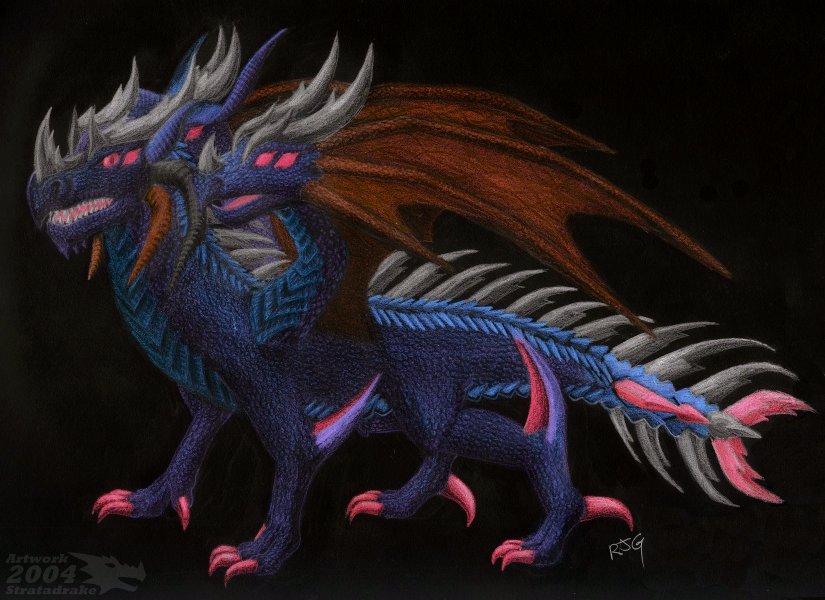 Description
Entering the seventh and penultimate spot on my list of elemental dragons is Darkness, in his third and final incarnation. I decided to utilize the 'hand-drawn negative' technique for shading this dragon. For those who don't know what this technique is, you simply shade a drawing in reverse and invert it on computer after scanning (see my
dA Scraps
for details). Executed well, the results can be quite dazzling, and much like when I completed my Kitty Ninja months ago, I was amazed speechless when I finished the inversion and beheld the final result.
So, anyway, what is Darkness? Nobody's quite sure. Is it matter? Energy? Something else entirely? Darkness is an element shrouded in mystery and confusion -- and no, it's not an element of "death". It's known that darkness had to play some role in creation, but exactly what, no one knows.
As it is, Darkness also carries the unfortunate distinction of being Evil. No one knows how or why it is, but history attests that this is true. Because of this, Darkness is called a weakened element, one whose time is limited and whose days are numbered. In spite of -- no, because of this, Darkness has developed something of a hostile inferiority complex -- always the brute, using strength and illusion to mask its inner failure and weakness.
Henceforth, while Darkness certainly appears to have three heads and twelve eyes, those are merely illusion designed to incite fear upon its enemies. Look closely and you may identify the two extra heads for what they really are.
The next, the last, and most certainly not the least of the elements in this series is going to be Light, and I have something special planned for him.
Medium: Colored and ebony pencil, inverted (for more information, see my dA Scraps,
here
)
Time: About 5 hours
Scale (full view) 75px/in