Starfleet Personnel File: Amelia Collins- Coloured
Starfleet Personnel File: Amelia Collins- Coloured
Starfleet Personnel File: Amelia Collins- Coloured
by
YunieXTidus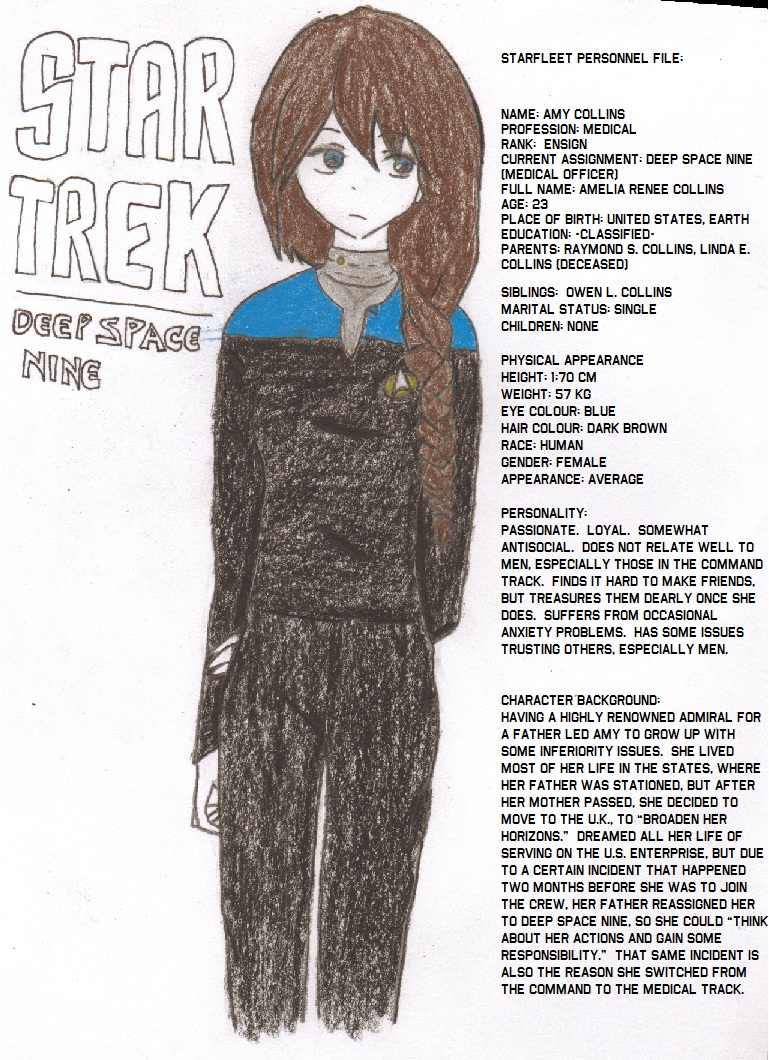 Description
:/ I'm not exactly sure why it's crooked. I must have scanned it wrong. My bad.

If you can't read the 'personnel file' or whatever, here you go:


STARFLEET PERSONNEL FILE:

Name: Amy Collins
Profession: Medical
Rank: Ensign
Current assignment: Deep Space Nine (Medical Officer)
Full Name: Amelia Renee Collins
Age: 23
Place of birth: United States, Earth
Education: -CLASSIFIED-
Parents: Raymond S. Collins, Linda E. Collins (deceased)
Siblings: Owen L. Collins
Marital status: Single
Children: None

Physical Appearance
Height: 1:70 cm
Weight: 57 Kg
Eye Colour: Blue
Hair Colour: Dark brown
Race: Human
Gender: Female
Appearance: Average

Personality:
Passionate. Loyal. Somewhat antisocial. Does not relate well to men, especially those in the command track. Finds it hard to make friends, but treasures them dearly once she does. Suffers from occasional anxiety problems. Has some issues trusting others, especially men.


Character background:
Having a highly renowned admiral for a father led Amy to grow up with some inferiority issues. She lived most of her life in the States, where her father was stationed, but after her mother passed, she decided to move to the U.K., to "broaden her horizons." Dreamed all her life of serving on the U.S. Enterprise, but due to a certain incident that happened a year before she was promoted to Ensign, her father reassigned her to Deep Space Nine, so she could "think about her actions and gain some responsibility." That same incident is also the reason she switched from the command to the medical track.
General Info
Comments
2
Media
Colored Pencil / Crayon
Time Taken
45 minutes
Reference
Jadzia's DS9 uniform