BEEF
BEEF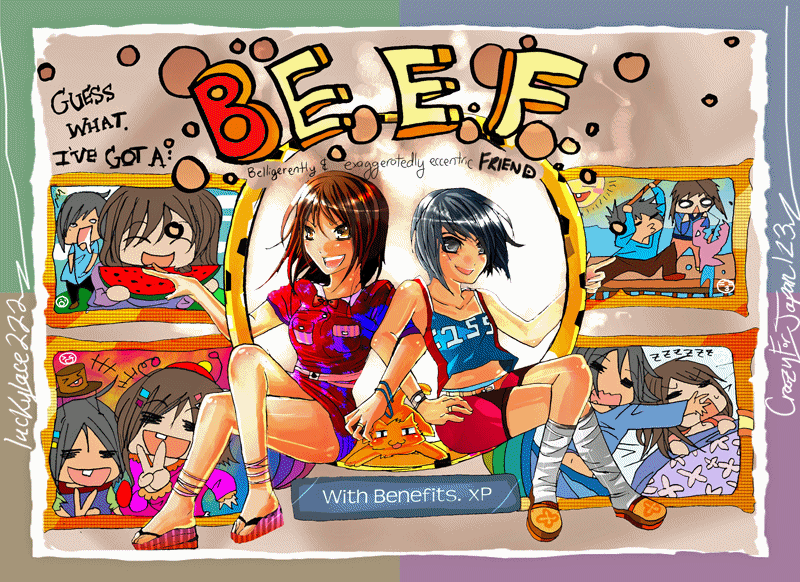 Description
*barfs*
OH for the love of God, I FINISHED IT AND I DIDN'T SUFFER A SEIZURE YET!
Nor heart attack, or cardiac arrest, or choking.
This is an art-trade with my WONDERFUL friend
CrazyForJapan123
. She drew me a best friend picture first:(
http://www.fanart-central.net/pic-756786.html
), and I was like, "OMFG I'm gonna draw you one too! 8DDD" And thus I did; I now feel fulfilled. ;)
CrazyForJapan is my virtual BEEF, my BFF, my big mac, my malicious concubine! <3 She's a sweetheart, and she's mature. The first few times we reunited this year, I instantly noticed how well she spoke, how eccentric and kind-hearted she is. She's is indeed BFF material here on FAC. xP HEHEHEH my "gift-art" is DONE! Except for that darn room meme....
ENJOY PEEPS

!
;P That's CrazyForJapan on the left and I'm on the right(we both have beautifully fancy/neon clothes) XP
(It's been a long time since I drew the lineart with mechanical pencil and THEN Photoshopped it. The lines are really fine. ;D)

EDIT:
Press FULL-VIEW to see the letters blink in neon colors! 8D You know you wanna see it! <3
General Info
Comments
73
Media
Digital drawing or painting
Time Taken
8 hours
Reference
My imaginaaaaatttion *Spongbob voice*