Forbidden Love
Forbidden Love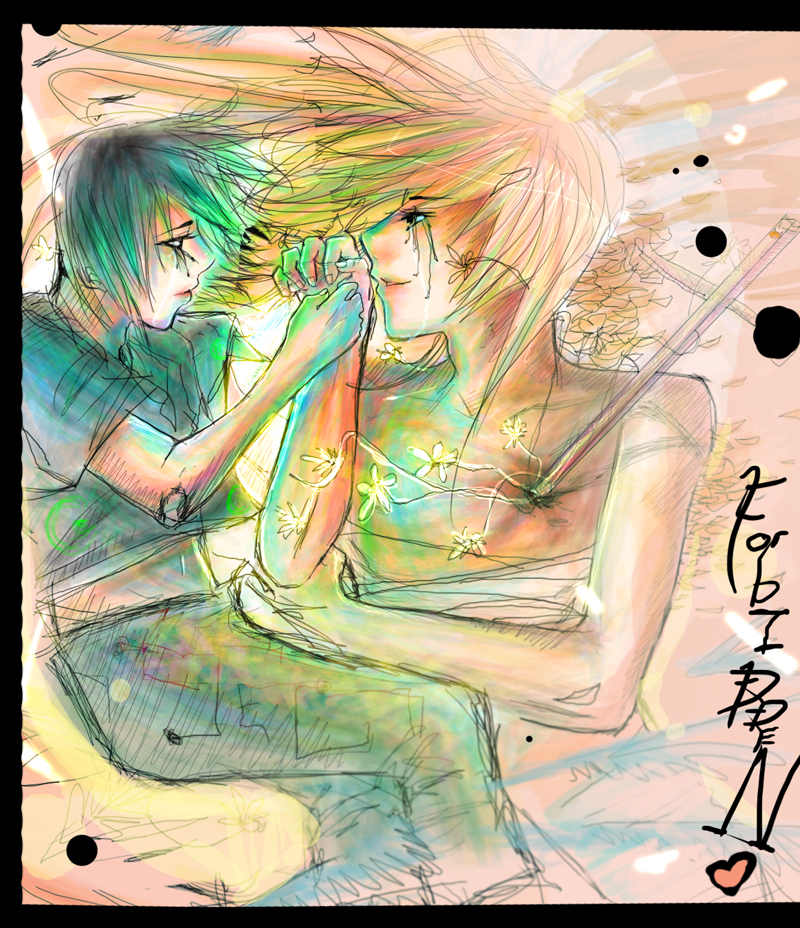 Description
Hola to every single one of you! @3@
LAWL, there are plenty of
c
o
l
o
r
s
in this picture, but not enough determination to show. It took me 8 hours to do that freakin lineart(I kept messing up on the kid on the right!!!) and 2 hours for the coloring. I basically winged the whole colors. @__@ CURSE MY LAZINESS! I look down on myself! xD LOL
This a contest entry for 1513's contest. We were supposed to draw a suitable seme for her OC Ukesuke(the blue/green kid on the left). xD I know this picture has the title "Forbidden Love," but it really doesn't look that forbidden. I was gonna draw this big glass wall between them and only their hands would make it through, but ALAS MY LAZINESS. It's hard to see, but the seme(on the right) has a cross into his heart where the flowers grow from. Basically this shows that the love is "forbidden" because the seme was killed a long time ago, stopped by time and only seeing the uke in this colorful dream/fantasy.
(And how do you know I didn't just make that up?) XD You
don't
know.
;__; Plus, I was hurrying because the deadline WAS on the 20th and I was planning to be funny and submit the picture at 11:59 PM, but I had to go to sleep early because I had a fever. SWINE FLU? I don't know.....OHHHHHoohhhhhh *tingles fingers*
Well....ENJOY! ;U My colorful shading condemns you!!!
PS: If you want to know where Koji(orange kitty) is, he's on the top of the cross. His itty bitty little head. Here's a super zoom in. xD He's definitely there! xD
http://img190.imageshack.us/img190/4429/fsafb.jpg
EDIT: DUUUDEEE! ;___; The guy's head on the right is huge!