Crappy Inu Yasha Comic #3!
Crappy Inu Yasha Comic #3!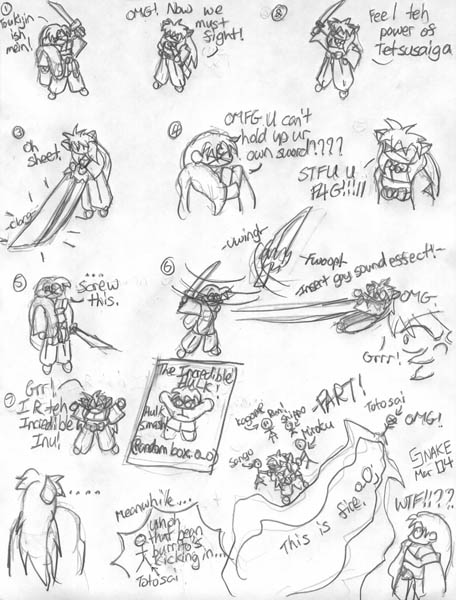 Description
This crappy comic took me an hour to draw. o.o Its a bit hard to read, so I'll tell you what they say.<br />
<br />
1)Sess: Toukijin ish mein!<br />
Inu: OMG Now we must fight!<br />

2)Inu: Feel teh power of Tetsusaiga!<br />
3)Tetsusaiga: -Clang-<br />
Inu: Oh sheet.<br />

4)Sess: OMFG U can't hold up ur own sword????<br />
Inu: STFU U F4G!!!11<br />

5)Sess: ...Screw this.<br />

6)Sounds: -Vwing- -Fwoop- -Insert gay sound effect-<br />
Inu: Grrr!<br />

7)Inu: Grr! I R teh Incredible Inu!<br />
Sess: ._.;<br />
Box: The Incredible Hulk! Hulk Smash! (Random box. o_o)<br />
Totosai(Spiky box): Uh oh, that bean burrito is kicking in...<br />
<br />
And you can read the rest. I was planning to draw these crappy comics for each ep I watch of Inu Yasha, so I can annoy you people. o.o Mwah.</br></br>

My bad, forgot explaining. This is a short summary of the ep where Sess takes Toukijin, the ebil sword made by Totosai's deciple gone wrong. o.o Anyways, this shoulda been Crappy Inu Comic #2, but I thought of the idea after I made Crappy Comic #2.