mooplz
mooplz's Profile
| | | | |
| --- | --- | --- | --- |
| Username | mooplz | Gender | Female |
| Date Joined | | Location | my happyplace and no u can not come ! |
| Last Updated | | Occupation | dose being sexy count |
| Last visit | | # Pictures | 0 |
| | | # Comments Given | 160 |
Member Info
this is jake !!!! he was my lover --------------->

[
color=darkblue]

1111.......11111..........1111111.......11111.....111111..1......11111
11....111.......11..........1.........1.......1......1.....1.......1..1.............1
11......1.........11...........1.........1......1......1......11111...1...........1..
11.................11...........1111111.....111111.......1..........111.....1...
11.................11...............................................1................1111111
[/color]
i am imma i am in ca
i can be bi... if u whant * wink wink *
i dont do internet

sex

!!!!




some ttimes lol rolf !!!!!!!!!!!!!!
heat pain warm blood emo ya thats who i am
my frendis my long thin blade
red black its all the same the way i feel is a shame
cut slice it all the pain to cover up for i feel a pain
i feel my onw crushing blow i cry i feel nothing more
every time i whisper ur name stars are shining weak and dull un till the
last letter forms opon my lips and when u simle they burn brighter
than the sun the though of u makes the moon rise and the earth quwake
and splinter the feeling i get around u makes me whant to fall 2 my nees
and sigh that i know that u dont love me as i love u ...
sad is int it i was thinking of jake at the time
wtf hes probely wit some dog mackit in 2 usi cuz i would ent let
him touch mb ahhhh ewww he is nb a perver i mean i was only 16 wtf
now that i am 17 may b i said mayb but it will tack some time till he
gets there a hell of a long time like 2 ,3,4yrs he'll only get @$$ and lips lofl
writen by kairigrlkdhf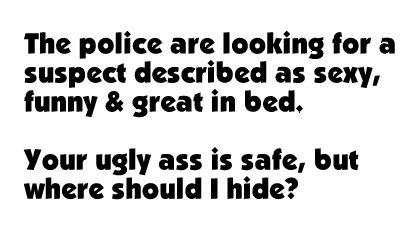 ~ IN HALLOWEEN~
boys and girls of every age
wouldent u like to see
something sreange
come with us and u will see this r town of halloween
this is halloween this is halloween
pumkins scream in the dead of night
this is halloween every body make a sean
trick or treat till the naghbors gonna die of fright
this our town everybody screem
in this town of halloween
i am the one hidding under ur bead
teath ground sharp and eyes glowing red
iam the one hidding under ur stairs fingers
like snakes and spiders in my hair
in this town we call home
every bodyhail to the pumpkinsong
in this town dont we love it now
every bodys waitingfor the next surprize
round that corner man hiding in a trash can
some things whaiting to pounce and
how u will screem
this is our town of halloween
red and blak slimy green r nt u scared
well thats just fine
say it once say it twice take a chance and
roll the dice
ride with the moon in the dead of night
every body screem every body screem
in our town of halloween
i am the clown with the tare a way face
here in a flash and gone with out a trace
i am the who when u call whos there
i am the wind blowwing in your hair
i am the shadow of the moon at night filling your
dreams to the brim with fright
tender lumplings every where lifes no fun with out
a good scare but
thats our job but wernt mean in our town
of holloween
scelloton jack might catch u in the
back and screem like a bandchi make u jump right
out of ur skin
this is halloween every body screem
wont ya plz make way fora vary speshal guy
our man jack is king of the pumkin pach
evry one hail to the pumkinking now
in this town we call home
every one hail to the pumpkin song
yahhhehehheeehehoooooowl !!!
* eats cookie * ahh ... i think ill eat that cookie * bites hand * aww how stole my cookie given to meh by my buddy ... * slaps self* grrr u stole my cookie imma grr
favorite
faves_faves
Favorite Artists' Recent Submissions
Favorite Authors' Recent Submissions