werewolf235
werewolf235's Profile
| | | | |
| --- | --- | --- | --- |
| Username | werewolf235 | Gender | Female |
| Date Joined | | Location | Geekville |
| Last Updated | | Occupation | ummm hermit crab... |
| Last visit | | # Pictures | 3 |
| | | # Comments Given | 97 |
Member Info
Art trade status...
royally spooky- her an kiba 100% ! (whootT!)just need to add the pics...
shan-chan- Vam 100% whoot! "
Sorry guys for not postin' in a while...scanner is bein' a load o' crap and my compy...well...y'know....I reallly do have your guys' stuff done...so plz plz be patient okies? "
I'm a serious roleplayer on the proboards...But I haven't been on in a while.
I love videogames and anime
(

Specially Naruto,Hellsing,.Hack,Ouran Host Club,Death Note,Full Metal Alchemist...so many I can't put them all on here right now...)
I've been gamin' since I was teeny! And I always have been into the awesome art of anime.
(I love the artwork of Final Fantasy an' Spirited Away the best!)
I practice my art skilzz (
The skilzz I have though aren't that great...even though the kids in class say they rule...yeah right...)
every time I get a chance. Even though I may suck at it...Anyways...I'm surprised yer still readin' this crap-ola...Sheesh...In the T.V world...I've been watching Rockstar Supernova...But that ended like a month or so ago...I'm sooo f'n happy Lukas Rossi won...He deserved the title of lead singer...And Lost! Oh don't get me started on Lost. I've been a fan of that awesome show since it began...Just love that Sawyer and Charlie....(
oooh...this couple....*drools*)
fave charries on that show....*nods* I can't help but watch the re-runs of Jackass and Viva La Bam when they're on. Wicked shows they are...mmmhhhmm...bam'n'Johnny are sooo freakin sexy!(
They're a good couple too!)
Jackass 2 was awesome too....laughed me butt off I did....you're still readin'?Never heard o' someone so interested in my rambles before....oh well...I also listen to lotsa music as well
(Him,69 eyes, Dir En Grey,even loads of anime theme songs...can' get 'im out'o me head.)
I like about almost anything. Except for most rap n' country. Can't stand the stuff...I've probably offended a lot of people here by sayin' that....oh well...I should stop before I get boring...WAIT I already have....
MY idols would have to be currently: Bam Margera and Lukas Rossi...yess..I don't have any female idols...(
Deal with it...)
Oh an' loads of the awesome artists on this website. They're soooo many. I especially love(
In no particular order...)
Wyna Hiros, Famira, Broken_lizard2, Shan-chan...and many others. Though those are my favs....I like just watching their artwork being posted. Its fun watching artists progress.
(Though I haven't progressed very much...)
hobbies: drawing, listening to music(
mostly rock n' metal), television watching,reading(comics,anime manga...),
ooh, collecting action figures! (
I gotz loads...)
I don't know I may be sounding like a geek right now, But I don' care anymore. I may be one of the only normal kids in my class. Except for a few exceptions. and most importantly VIDEO GAMES
(Anything that requires a controller and is video game-ic is fine with me)
!Booh-yah!
(Go Pychonaughts!!!!WHOOT! Start a petition to make a sequel!*hands out fliers*)
current fandoms:Lukas Rossi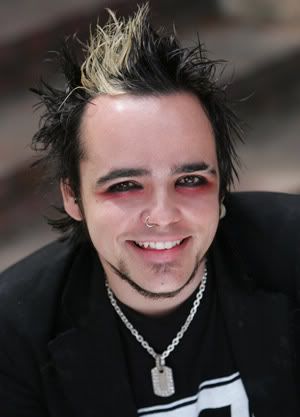 ,
Bam Margera
,
Ville Valo
,
Johnny Knoxville
,
dislikes: onions,world war two games,racing games(most)
Current game obsession: Pychonaughts
(best game eva!)
I like any game that actually has some imagination to it!
I Absolutely love video-games...Have since I was a wee lass! Mwah! Throw a game at me...An' I'll play it!
(except them annoyin' ww2 games that are all the same)
currently playing:Elderscrolls 3
(morrowind)
for oringinal Xbox....(
don' have enough money for 360 yet..*cries*)
current band obsession:HIM
(His Infernal Majesty)
fav word/Phrase: "Snark"
fav superheros:Wolverine& Green Arrow (
yes I'm a comic book nerd as well)
listening to:"Headspin" by Lukas Rossi
I do requests...But I highly doubt anyone will ask for a pic from me...But if I do get my scanner back up and runnin' again...I'll try to dedicate my lame art skillz for you'z.
Much love,
-235
recent_or_popular
favorite
faves_faves
Favorite Artists' Recent Submissions
Favorite Authors' Recent Submissions